Hey guys!
Happy Friday! I wanted to share the survey results from my post on whether the Girl Scouts should stop fundraising with cookies or not [here].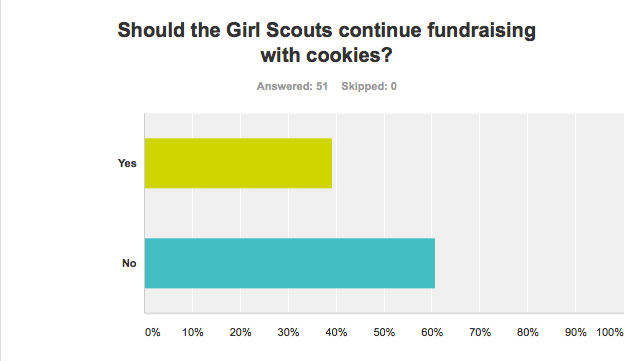 61% of you said the Girl Scouts should NOT fundraise with cookies. We can't treat this study scientifically because only 51 people voted and this certainly is a very small sample size (plus this survey was only posted via my social media, which targets a niche demographic). Anyhow, I still find it interesting
So, if we were to put on our thinking caps, what could the GS sell instead? We can't knock something without offering an alternate solution. I would suggest that the Girl Scouts at least improve upon the ingredients of their cookies for now–remove the trans fat and palm oil [see here about palm oil]. Imagine what could happen if the Girl Scouts taught their troops social entrepreneurship…
Thoughts?
<3,
The Cranky One
Tags: girl scouts