Hey guys, happy New Year!
How did you celebrate? My boyfriend and I made my famous vegan lemon poppy seed cake, watched some Myth Busters and then I knocked out on the couch around 9:30. We're so cool!
In looking over the goals I had listed for 2013, I realize I made quite a few blunders in planning. I didn't check-in nearly as often as I should have to revise/edit/delete the goals. So, I've spent quite a bit of time planning for 2014. I've created my goals while paying attention to the systems and habits that will accomplish them rather than just listing an end-goal. And, I have an accountability partner who I will be checking in with monthly (and I will be her accountability person providing the same service). Despite my planning blunders, I accomplished a LOT in 2013 and it was amazing year. I'm so excited for this year! My goals include power lifting 4x a week using Jim Wendler's 5/3/1 plan, writing another PR e-book, writing an e-book on mindful eating and more!
It feels a bit self-centered to do a year in review, but I'm a blogger, so I guess self-focus is a big part of the game, eh?
I looked through 2013′s posts and my calendar and pulled a list together to walk down memory lane. It was fun to see.
I attended the Natural Products Expo West. This was during my back injury, so I brought my boyfriend along to hold my bags (you get tons of free food as a blogger at this event!) and to serve as photographer. It was a fun time together. I was introduced to Lyfe Kitchen, which is now one of my favorite restaurants to eat and to awesome new vegan products on the market.
I led a panel on Guerrilla PR at the Los Angeles Vegan Professional Bootcamp. It was a blast! I got to meet other vegan professionals and it was my first time leading a discussion on my area of expertise at a conference.
I attended Fitblog LA, hosted by Fitness Magazine, and got to meet some awesome bloggers in real life, including Gigi, Erin, Whitney & Gillian!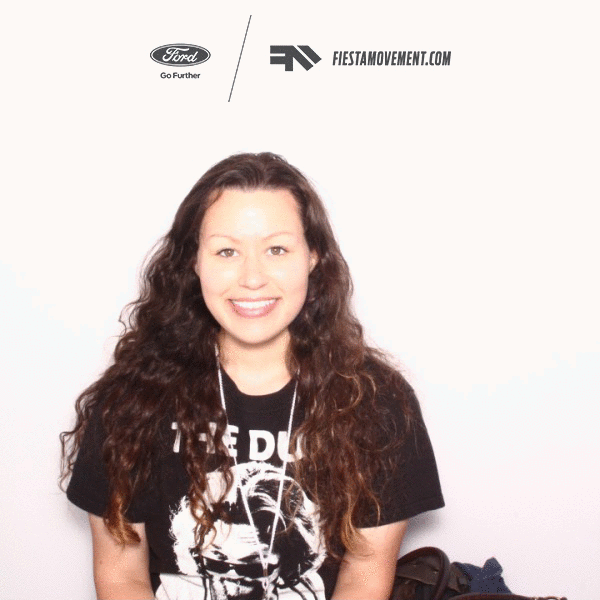 This was taken at the event after much persuading.
I got to see Amanda Palmer in concert and there's me in the background of her selfie with Ondi Timoner, Shepard Fairey, & Alexis Ohanian (co-founder of Reddit).

I started my own PR consulting business, Madcap Public Relations! I don't intend to run this business as my full-time endeavor since I love my current full-time job, but I'm interested in expanding my skill set and offering my services to start-up and socially-conscious companies on the side.

I celebrated 6 years with my Huckleberry Finn<3

We're pictured here with the cast of The Life Aquatic with Steve Zissou. This was my Christmas gift to him
I went to Cambria for my 30th birthday! Cambria is a sleepy town off the coast of Central CA and it's my favorite vacation spot. We ate, we walked, we ate some more, and, of course, we took our fur children with us. You can see our pictures here.
I made significant strength gains. and then lost them…mostly.  I didn't do a good job lifting weights consistently enough to make the types of gains I was striving for. So, I've revamped my plan for 2014 and my boyfriend is enlisted to help me meet my new strength goals. Actual strength goals include benching 150lbs, squatting & deadlifting 250lbs and overhead pressing 1251lbs. This shall be fun…
I explored all Long Beach has to offer in vegan food. We lost some vegan restaurants and gained some. Overall, it was a great year for vegan food in LB with restaurants old and new starting to incorporate vegan menu items, such as L'Opera Ristorante. You can see my list here.
I spent a lot of quality time with my mom. We did work-out classes together and drank countless alcoholic beverages together
My band released our cover of The Cranberries' Zombie.

Spoke at & attended Fitbloggin in Portland, OR. I did a session on how to build a media kit with Shannyn & Erica and did an Ignite Fitness talk on What I Gained From Losing Weight (hint: it's not what you think!).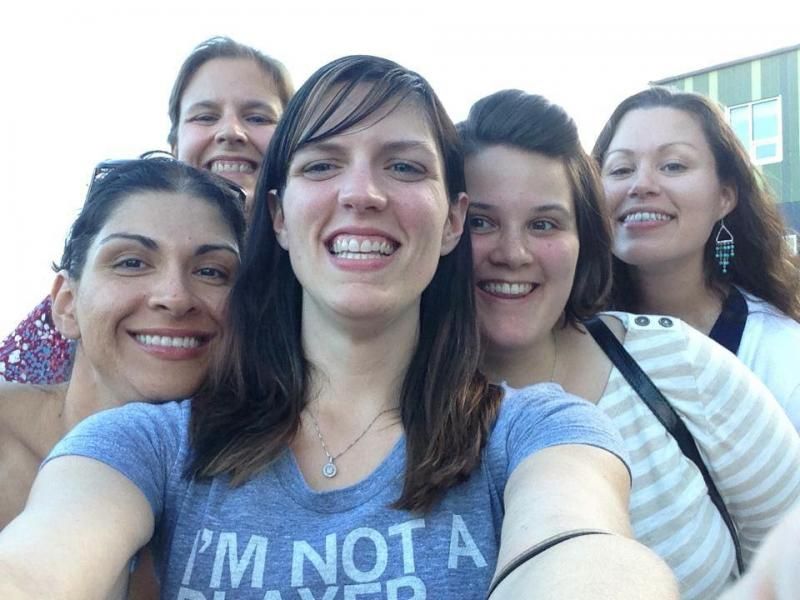 My new blog pals, Kelly, Brooke, Dacia, & Lindsay who I met at Fitbloggin!

My boyfriend & I started producing & directing a documentary on fat politics. While the project is currently on hold (I'm not sure, frankly, if it has room on my list of more pressing projects or whether it has my full commitment), we did get some great footage of my hero Dr. Abigail Saguy, author of What's Wrong with Fat?
, speaking at my alma mater, UCI.
Feed Me, I'm Cranky was awarded for the second consecutive year by Psychology of Eating as a Top 50 Emotional Eating blog. The blog was also mentioned in the Jan 2014 Cosmopolitan magazine (released in Dec.) and in the April issue of Health magazine.

I had a lot of career accomplishments including getting a part-time coordinator to help me run the department. This was a big year for really owning my space in the PR world.
One of the accomplishments I'm most proud of is that this was my second year that I did not diet. This was one of the hardest and yet one of the most seamless things for me to do. One the one hand, eating intuitively has gotten much easier since I started two years ago. No food is off limits for me (barring non-vegan foods) and I find myself truly enjoying eating and not feeling inclined to binge. A natural result of my intuitive eating would be my body adjusting to a weight that is natural for my body. This is where the hard part comes in. My natural, healthy body is not the skinny body I had when I was obsessively counting calories and working out like a maniac and, later, when I was bulimic. It's no-brainer that the body I have now is more healthful than that skinnier body. But I am, of course, not completely immune to the pressure to be skinny. That said, I can clearly recognize when that pressure is popping up and address it head-on. I have a set list of questions I ask myself when I feel the pressure to diet. And, loving the body I have and putting my health first always comes out on top. So, despite the pressure, I have not gone back to the comfort of trying to be skinny.
I have incredible gratitude for this past year.
FMIC's Most Popular Posts in 2013:
What made you most proud in 2013?   What are you hoping to accomplish in 2014?
Tags: year in review