Hey guys!
Have you planned your holiday menu yet?
**waits patiently**
If the answer to that question made you groan, I understand.
There's been a bit of uncertainty as to my boyfriend and my holiday plans, but one of the themes for the past four years has been that I have to ensure there is food I can eat wherever I go since I'm vegan and that world can be tough to navigate for people who don't quite understand what veganism is. Once you understand, it's easy! We all eat vegan foods all the time, there's just something about the word "vegan" that terrifies people. I blame PETA
Anyhow! Whole Foods of Long Beach (my hometown and the hometown of the venerable Snoop Lion) asked me to get the scoop on holiday eating from their store and then share it with you guys AND THEN offer all of you the chance to win a $50 gift card to their store! Ho-ho-ho, that's amazing!
Whole Foods makes it easy for people to accommodate their own special diets or those of others this holiday season. If you're vegan or hosting a vegan, there are clearly marked sections for vegan foods. For example, there's an entire section that includes vegan faux meats, including Gardein's new "Savory Stuffed Turk'y" (good size if it's just you + 1 other vegan–or if you, like me, eat for 2 people, that works, too) and Vegetarian Plus' Vegan Turkey Roll, Gardein's Holiday Roast & Field Roast's Celebration Roast.
I thought about getting the Gardein Stuffed Turk'y, but I'd rather cook something that isn't trying to be something else, do you know what I mean? [spaghetti squash is a fraud; so are kelp "noodles"!].  It's always fun, too, to remind non-vegans how we don't survive off of faux meats. So, I bought the Tofurky vegan gravy and kept moving.
I picked up some staples:

and turned them into this:
The above macaroni and "cheese" recipe is brought to you by Love and Lemons' recipe [here] and while it photographs absolutely beautifully, I have to be honest: it's not as good as my recipe for gluten-free and vegan mac' and cheese.
I'll use the above dish as a springboard to tell you that if you're vegan or hosting a vegan for the holiday, there are super simple things you can make or simply adjust a tad to accommodate a vegan diet:
Pastas! Spaghetti with red sauce is naturally vegan (if you don't use butter or add meat, of course!). Mac and cheese can be veganized by using vegetable puree as the sauce (I know that doesn't sound good, but it is so good!) or a cashew-based "cheese" or even a pre-made vegan cheese like Daiya. Or, you can literally just choose any pasta and add olive oil and voila! I'd eat it by the truckload.
Veggies! Roasted carrots and potatoes, brussel sprouts, whatever! It's allllll good. Just add olive oil & roast.
Mashed potatoes can easily be vegan by using soy creamer instead of regular creamer, almond milk or soy milk instead of regular milk and Earth's Balance instead of butter. I have been making my own mashed potatoes with soy creamer, almond milk, Earth's Balance, onion powder (it's the secret ingredient that makes the dish delectable, trust me!), fresh garlic and salt & pepper. Everyone licks their bowls it's so good.
Salads. Ditch the cheese, milky dressings and buttery croutons and you can create a wholesome salad. Want bacon? Add some tempeh "bacon." Want a creamy dressing? There are plenty of vegan ones.
Beans! Choose a bean, add some rice and bam! You've got yourself a healthful meal for your vegan friend. You can also make a super easy bean salad by adding in 3-4 different canned bean varieties and mixing them with Italian dressing. Doesn't sound remarkable, but it's quite tasty! My boyfriend's mom makes it for me all the time.
If you're in a pickle, you can always get pre-made vegan food from Whole Foods' deli section (I love their curry "chicken" salad made with Beyond Meat)
When it comes to beverages, there's an array of vegan options: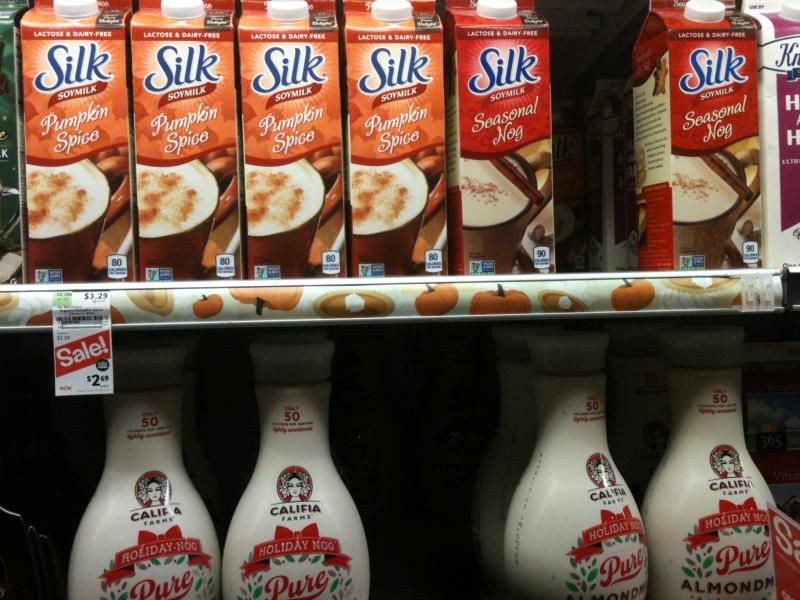 You can check out Whole Foods' holiday-dedicated page here for recipe ideas, too.
Want to get the inside scoop on what's available at Whole Foods? If you're in Long Beach, check out their "Dressing Rehearsal" this evening:
Date/Time: Monday, 12/16/13, from 6 to 8 pm
Location: 6550 E. Pacific Coast Highway, Long Beach, California 90803
Features of the event include lots of tastings of alternative holiday dishes!
Now, on to the give-away! Want to enter to win a Whole Foods gift card for $50?! Enter below for your chance to win. Rafflecoptor will choose a winner on Friday!
a Rafflecopter giveaway

Disclaimer: This is a sponsored post for Whole Foods Market Long Beach. My opinions and advice, however, cannot be bought
Tags: Gardein, holidays, recipe, vegan entreres, vegan hoiday menu, Whole Foods, whole foods long beach