Hey guys!
I'm going to be honest…I feel bad that recently all my posts sound like this:
"wa wa wa!"
That said, I swore (to myself) that I would be honest here and this blog is one of the few places I  can be authentic and not pretend to be "on" (it's really hard to be a sourpuss at work since that's really frowned on lol).
I'm feeling better — better in the sense that I've come to peace with the fact that I simply do not know enough about my eye conditions to freak-the-fuck-out (as I'm wont to do). These are some of the things I'm doing to quell the panic/worry:
*I've stopped drinking caffeine. I've read that caffeine can incite panic/feelings of panic because it causes the heart to race. It's been over a week and it has not been hard. I think I'm used to cutting foods (I am vegan, after all) so while sometimes I miss coffee, I do not feel restricted. Instead, I've felt comfortable that I'm making a smart choice for my body at this sensitive time in my life.
*I'm retraining my brain. Whenever I start panicking and picturing myself blind at 35 and not being able to see my future children grow up, I ask myself "is this belief serving you?" "is this belief going to help you?" "Do you know enough about your current situation to have these worries?" I've been reading The Joy of Living: Unlocking the Secret and Science of Happiness
by Yongey Mingyur Rinpoche (a Buddhist teacher who used to suffer from panic attacks) and slowly becoming a student of Buddhism and quantum physics. I'm seeing the possibility (surety, rather) of neuroplasticity and the possibility that I can address the things that usually cause me panic and actually feel peace.
*I focus on the moment. This has been a continual challenge for me. My initial panic, I believe, was instigated by worries of the future (when am I going to have kids? how can I save enough money, etc) and yes, we do have to put some time into planning, but I've also recognized the futility of planning and its inherent danger. If I'm always planning, I'm neither here nor there. It's like living in limbo and never being here to actually live. I'm trying to enjoy the moment by actively taking in the scenery – I focus on the colors of what I see, the textures, etc. It's a new level of mindfulness that I had not even considered. It's also a bit out of my character. I've noticed that I tend to keep my eyes low (as most introverts do) when I walk and I'm actively changing that. What good are all my worries of the future if all they do is slowly kill me? My mom recently called me and said that she believes the best time of her life was when we, her children, were young and we were all one dysfunctional crazy family. I miss those days, too, but I told her what I now actually believe: now is the best time of our lives. Yes, even though I'm seeing sparks in my right eye and my head hurts and I'm not quite who I used to be, right now, as I type this in my comfortable home where my boyfriend lays on the couch watching another documentary; with the torn green chair that sits in our living room; with the snores of Lucy piercing the background; with my dining room table overflowing with bills and papers; my heart brims with love. Now is all we have for sure.
I have not really had any moments of panic in a few days and I think part of the reason is that I now know that the sparks I'm seeing are due to a hole in my retina and not a manifestation of my "hysteria." So, in some ways this hole in my eye is a blessing. I am, however, very troubled by the way I have been treated by doctors, as I've mentioned before, and how actual physical symptoms have been brushed off and attributed to my anxiety. In some ways, this fuels a pseudo-hyphchondriac tendency in me because I feel I cannot trust my doctors to take my symptoms seriously so I have felt the need to "play doctor" and research every symptom I have and try to make connections so that I am fully informed, and not easily dismissed, when I see my doctor.
I continue to have physical ailments ranging from digestive issues to pain, getting dizzy even while sitting, and throbbing in my head, and, yes, this can all be the result of my body either getting over the severity of having back-to-back panic attacks during a two-week period, or it could be something else. I'm being a vigilant patient and keeping notes while also continuing to practice the detachment that Yongey Rinpoche teaches (i.e. instead of "Ahhh! My head is throbbing!" I just acknowledge, "a throbbing pain in my head is visiting, hello.")
I think the biggest challenge for me is to retrain the way I react to my workload. I'm accustomed to viewing my professional life with anxiety and allowing my workload and our fast-paced, high-energy, 24/7 culture to make me feel stressed out. Why? I think this is a natural reaction for most people, but I'm making a conscious effort to set boundaries, to practice detachment, and to see my job as something I'm grateful for but not something I'm bound to in a way that makes me feel trapped and fearful. I don't see why I can't view my workload as I did studying for my M.A. exam — it was tough, but I knew I could do it and I set boundaries of studying 8 hours a day and did it without all of this grief attached to it.
Anyway! Thank you for listening
Here is your reward: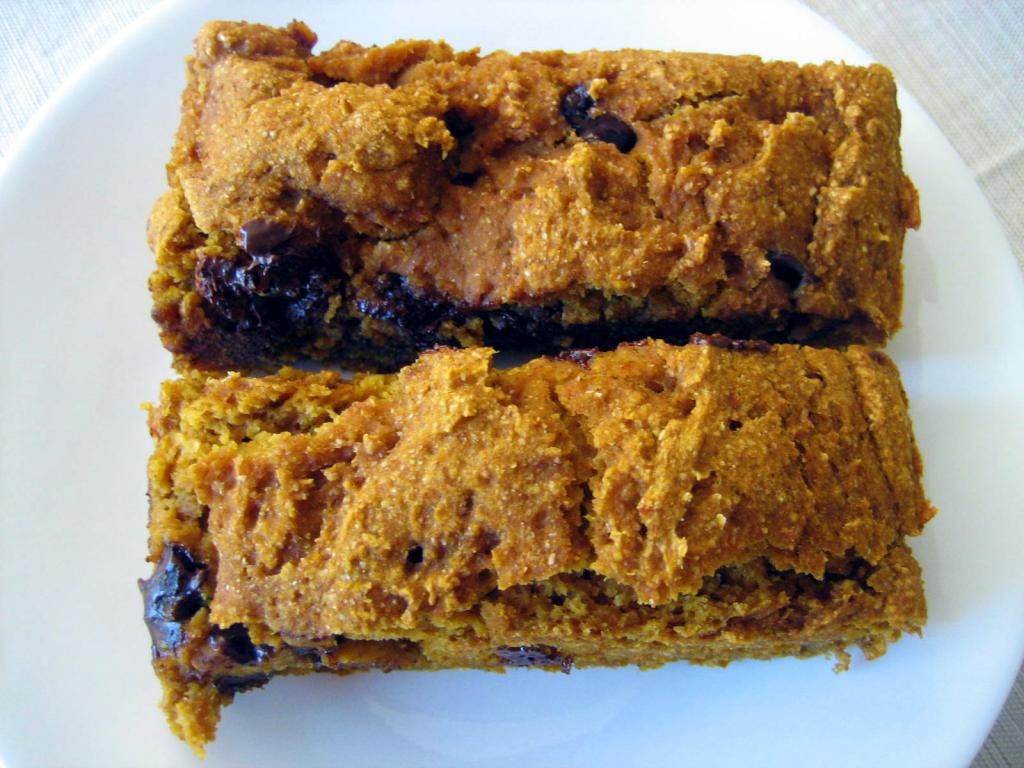 Pumpkin & Lemon Sweetbread
Ingredients
2 cups whole wheat flour (better to use whole wheat "white' flour; found at Trader Joe's
1 tsp baking soda
1/2 tsp baking powder
1/4 cup almond milk
2 tsp apple cider vinegar
15 oz can pumpkin
3/4 cup maple syrup
2 tsp lemon extract
2 tbsp pumpkin spice (you can find this at Trader Joe's)
1/2 cup chocolate chips (Trader Joe's & Costco both sell vegan versions)
Directions
Preheat oven to 350 & spray an 8×8 baking dish with non-stick cooking spray
mix together top three ingredients in a small bowl and set aside
mix together almond milk & vinegar in small bowl and set aside
in medium or large mixing bowl mix together pumpkin, maple syrup, lemon & pumpkin spice. Add in almond milk & vinegar mixture. Add in flour mixture in small batches.
Fold in chocolate chips.
Cook for 30 minutes then check with a knife or toothpick in the center to see if it's done (knife will come out clean). If not clean, it may need a few more minutes.
Can you relate to any of the above? How to detach from work? How to you practice "living in the moment" when our culture is so focused on tomorrow?
p.s. I'm acknowledging and thinking about how all of this has really put my food "issues" and body-image issues into perspective…And, of course, has be pondering what "health" really means…
<3,
The Cranky One
Tags: anxiety, buddhism, panic attacks, recipe, vegan dessert, vegan desserts, Yongey Mingyur Rinpoche