Strong4Life, a non-profit initiative of the Children's Healthcare of Atlanta, is getting a lot of attention due to its recent print & video ad campaign featuring overweight children.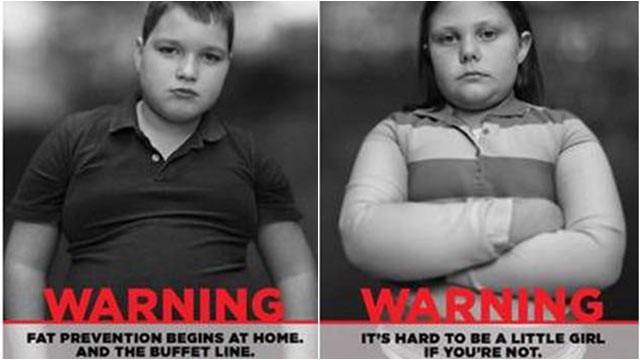 Above, two examples of the print campaign.
This is one of the video ads – Bobby asks his mom, "mom, why am I fat?"
These ads pissed me off. Did you expect any other reaction?
I'm in marketing/PR, so I get that the ad followed typical ad-men mentality: let's use black & white to symbolize that it's a black & white issue – there's no room for sugarcoating – while also playing up the sentimentality. Let's play dramatic instrumental music to startle the viewer, as well as the sound of a child's labored breathing – no one can deny that's a compelling sound. Let's put a name to the problem. How can you ignore the problem once these children – who we'll name in our ads, Bobby, Jaden & Tina – invade your heart? Let's stir people up and get them talking — we don't want childhood obesity to be some faceless symbolic problem; that's how it keeps growing despite all of us knowing better.
I get it.
But just because an ad will stir up controversy doesn't mean it's going to effectively incite people to make positive changes. While I respect the campaign is called "Strong4Life" and not "Thin4Life," and while I think the site offers some great tools for parents, I think the campaign is actually counterproductive to building strong and healthy children. Why? It plays into the hoax that I've talked a lot about on here. The hoax: we tell people: "lose weight, and the world will accept you. Lose weight and your problems will be solved. Lose weight and you will be healthy."
It's a lie, it's bullshit and it's a horrible contingency to live by. Guess what? You will never be thin enough, pretty enough, or whatever enough to escape criticism or assholes. The sooner you accept that and focus on building your own strength & character to fit your ideal self, the sooner you'll live a life full of love, possibility, and – guess what? – HEALTH. Health is not just about being fat or thin. What? Yes, it's true. I don't deny we have too many children suffering from diabetes and hypertension at alarmingly young ages. But health is not just about the body – we all know this in our own lives. We can't keep brushing the psychological pieces of the puzzle to childhood obesity under the rug. You don't think low self-esteem & emotional abuse (which these ads reek of) play a role in building unhealthy children who turn to food, drugs, etc. to self-medicate? "Fat" is not the problem.
I think Strong4Life would have been better served if it took these same children and depicted them as strong, self-loving and assertive advocates for health. Why should children learn to victimize themselves and to internalize a view that there is something wrong with them and that they have to passively accept the consequences of being deemed an 'other' based on their outer appearance (yes, I'll lay down and take your bullying. I'll stay home and play video games because kids poke fun of me. I'll wait to live a full life until I'm thin).
Fuck that!
I want to see Bobby telling his bully to get a life – to get a passion and to get a hobby so that he doesn't grow up only finding fulfillment in belittling others. I want to see Bobby walking past his bullies proudly (I wouldn't mind seeing him give them the finger). I want to see him engaging in a sport he loves to play. I want to see him starting his own backyard garden to learn how to grow and eat his own food.
Inculcating a society of people who think that they are not worth self-respect, common decency and love until they look a certain way is the most horrible and antithetical approach to health I have ever seen.
Tags: childhood obesity, children's healthcare of atlanta, strong4life