Hey guys!
Last week, my boyfriend took me to a raw vegan restaurant I had been dying to try in Costa Mesa's "The Camp" called 118 Degrees. We've frequented The Camp before for our beloved Native Foods Restaurant and have made plans to also try 118 Degrees, but when we stupidly went on Valentine's Day without reservations, we were turned away. So, of course, we ended up at Native Foods instead hehe, which is much more spacious and not as expensive. The Camp is an interesting shopping center and an experience in its own right. It's like a theme-park for yuppie yoginis. Eeek, did I just say that? How rude! I'll just say this – they have speakers around the park center that play the sound of nature (yep, crickets chirping) and the parking spaces are not numbered, but, instead, feature cute little slogans about namaste, eating healthy, being green, blah blah blah.
I sure love to shit-talk, but I'll see you there later for some over-priced vegan food after my yoga video, okay? lol.
Back to the restaurant! 118 Degrees offers a different experience than Native Foods because while they both serve vegan food, 118 Degrees serves raw vegan food. What is raw vegan food? Basically, it's "living food," which is defined as being raw or cooked at or below 118 degrees (the point people – food scientists? – believe the food still retains its vital nutrients). There is always some contention between raw foodists and conventional eaters – some argue that not all foods lose their nutrients when cooked (some foods, like tomatoes for example, unlock their nutrients when cooked). I don't side with either – I am simply an indiscriminate produce eater – cooked, raw, whatev, I'll eat (though, of course, I'll prefer it organic heh).
So what sorts of things do you typically see on the menu at a raw vegan food restaurant? The menu will be entirely plant-based, so fruits, veggies, nuts, seeds and sprouted grains. Specifically at 118 Degrees…
No, sorry weirdos, I am not on the menu. Though a "Taco Salad" is.
Taco Salad half is $9 (it was huge)/ whole is $12
"Mixed Baby Greens, Chipotle Cilantro Vegetables, Guacamole, and Corn Chips."
It was amazeballs. Though, note, there was only one "chip" in this entire salad, which was disappointing. I gave it to my boyfriend anyway so that he would have more dipping material for his "cheese"…

My boyfriend got the "Cheese and Cracker Sampler" for $15
"Great for sharing this sampler features 3 of our house made cheeses- pistachio pesto, chipotle cheese and tahini cheese and everybody's favorites our sproutes bread and crispy flax crackers."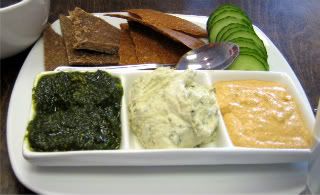 All of the "cheeses" were delicious. But, more dipping material would have been nice.
They also offer things like "pasta" and "lasagna" made from spiralized and shaped vegetables (usually zucchini and squash). Next time, I'd like to try the "Fajitas Plate" ($13), which is "Spicy Marinated Squash, Portobello Mushrooms, Red Bell Peppers, and Green Onions Served Warm with Mixed Flax Tortillas, Guacamole, and Tomatillo Salsa" and their "Crepes" ($22), which feature: "Marinated Mushroom Mix, Pesto Aioli, Avocado, Sweet Peppers, Chard Ribbons and Shaved Asparagus, inside sprouted grain and flax crepe shell. Topped with Sun-Dried Tomato Crème Sauce and Olive Carmelata."
One thing I didn't like about the 118 Degrees menu is that most of the dishes contain mushrooms and I am not a big fan of 'shrooms. The other thing, the prices are kinda steep. If you're going to give a skeptical omnivore a platter of "cheese" and "crackers" for $15, please give him enough sprouted crackers for dipping because it's not like he's going to jump on my plate full of lettuce and dehydrated tomatoes, ya know what I mean?
I can't help but recall that "Sex and the City" episode where the girls visit a raw food restaurant and can't understand how the place packs in a crowd. Until they see the sexy waiter. Then they get it. No sexy waiter here, but I didn't need eye candy with my boyfriend there, obviously
While I've moaned about the 'shrooms and prices, I truly did enjoy the restaurant and experience. I sipped a nice chai tea with my meal and enjoyed the intimate setting. My salad, even though it was "just a salad," was amazingly delicious and my boyfriend loved the different "cheeses."
The best part, of course, was dessert…
Apple pie.
The cashew cream was delicious and the dehydrated apples were delectable.
If you are a skeptical omni looking to try vegan food, I'd recommend first going to a restaurant that serves cooked vegan food (like Native Foods), but if you're looking for something new, do try this!
…And, just a side note that raw veganism is not to be confused with raw foodism. Raw foodists eat sashimi and raw milk, etc. – things us vegans do not eat (so avoid that raw food restaurant with the cows grazing in front of it).
If you're interested in trying a "raw food" dessert at home, have an apple. Ok, I'm so mean. You can try my home-made pistachio lemon bars, just sub in raw pistachios for the roasted ones.
<3,
The Cranky One
p.s. my one-month Comps 10 Challenge weigh-in to be posted this evening.
Tags: 118 degres restaurant, native foods, raw food, raw food movement, raw vegan restaurants, vegan restaurant