Hey guys!
I hope you're having an amazing, fun-filled weekend! My lovely friend and I ran the Wrigley River Run 10k yesterday and it was so much fun! It was my first time running with someone (the last two 10ks I ran alone). It can be a bit of an awkward dynamic when you run with someone else –remember my feelings on running with a talker? Alternately, it can be a great way to push yourself and to feel camaraderie. I did, after all, first start my running career alongside my best friend Tamara! But, for those of you who run races with friends – do you make it an up front deal that you'll each run at your own pace? Or do you just wing it? Do you stick with each other til the end? I'm curious!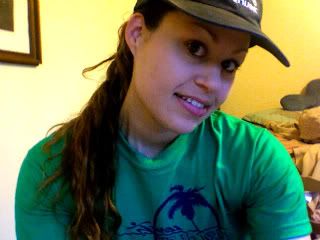 Pre-run smiles
I didn't break my personal record, unfortunately, though I did beat last year's time for this particular race. Last year, I completed the 10k in 1 hour, 8 seconds — 9:41 pace; yesterday, I completed the 10k in 59:42, which is a pace of 9:36. My best time is for the Long Beach Turkey Trot, which I completed in 56:58 — a 9:14min/mile pace. Time for more 10ks! They are so much fun! (though if you ask me while I'm running them, I'm sure I'll shoot you my death stare).
I love making race play lists! The three songs I would repeatedly switch to were Nicole S. & 50 Cent's "Right There" (*writes ashamedly*), Motorcycle's "As the Rush Comes (Gabriel & Dresden Chillout Mix)" and "Pop, Drop and Roll" by Chonique Sneed — a song I heard when I was flipping through and stopped at the girls' performance on "So You Think You Can Dance" (see below)…

Now tell me that song doesn't make you want to run your little heart out! (or dance like a crazy Geisha…)
Time for some cool super-easy vegan recipes!
Brown Rice & Vegetable Medley (w/ Smart Dogs for Good Measure ;))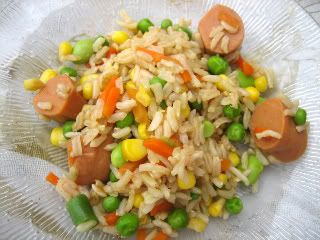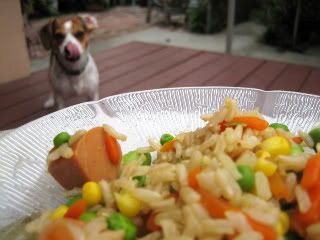 Kahlua would like a taste…

What You'll Need
3 cups frozen vegetables (I used Bybee Foods mixed vegetables with shelled edamame from Costco – it's organic and non-GMO!), steamed and cooked without added oils or any of that nonsense [note: huge bag with 22 1-cup servings is $5.59 @ Costco]
Cooked brown rice (however much 1 cup dry yields when cooked per package instructions) [note: Costco sells a huge bag of cooked frozen brown rice. It's very convenient. Trader Joe's also sells cooked brown rice in both the pantry (pasta/rice section) and frozen sections of the store]
Smart Dog Veggie Hot Dogs (I added four dogs, chopped into bite-sized pieces)
Low sodium soy sauce, hoison, brown rice vinegar (prob about 1-2tbsp each)
What to Do
Add all the cooked ingredients together into a sauce pan and saute over low heat. Add in the sauces, stir and you're done! So simple, cheap, healthy and delicious! I like to add the rice mixture to some lavash bread, add hummus and lettuce, and maybe even some of the papas below and it's like a super-hearty, healthy, vegan breakfast burrito! MMMM!
Curry Potatoes
What You'll Need
Some potatoes. I used about 5-6 large red potatoes. Scrub 'em, wash 'em and cut 'em into bite-sized pieces. Curry and paprika spices [note: Trader Joe's sells curry]
What to Do
Preheat oven to 450 degrees. Mix in chopped potatoes with 1 tbsp olive oil, 2 tbsp curry and 1 tbsp paprika. Place into a shallow baking dish sprayed with non-stick cooking spray and cook until tender and crisp (about 25 minutes). These are amazing with ketchup!
Alright, gotta get back to band practice! (yes, I blog while the guys are figuring out guitar chords hehe!).
<3,
The Cranky One
Tags: 10k, races, Recipes, vegan entrees