Hey guys!
A very special someone celebrated his birthday recently — someone who loves film, steam punk, archaeology and, apparently, cranky bloggers. Yep, that would be my boyfriend! He also happens to love poppy seed cake and, man, does he deserve one all to himself on his birthday.
Determined to make him the best vegan poppy seed cake out there, I found myself in a sticky spot when I couldn't find a promising recipe online. Since I couldn't risk a mediocre cake on someone who's so clearly extraordinary, I decided to use the base of my favorite no-fail chocolate cake [via Vegweb here], omit the cocoa and add the lemon, almond and poppy seed flavors that I know he loves. It tasted like perfection and had a dense and super moist texture that made me wonder if the Cake God had come down and added her miraculous touch. It's.that.good.
For all my health-conscious readers…this is not a "healthy" cake, so don't bake it and then eat it out of the 9×13 pan with a shovel lol. Unless you're the birthday boy (or girl), of course, in which case – dig in!
Vegan Lemon Poppy Seed Cake (AKA "Birthday Boy Cake")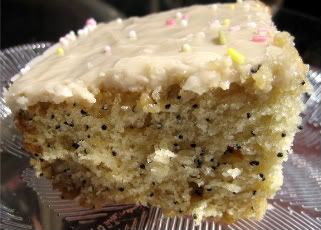 Ingredients
3 cups all-purpose flour
2 cups vegan sugar
2 teaspoons baking soda
1 teaspoon salt
2 cups water
3/4 cup canola oil
2 tablespoons vinegar
2 teaspoons almond extract
1/3 cup fresh lemon juice
1/4 cup poppy seeds
Directions
Preheat oven to 350 degrees and spray a 9×13 baking pan with non-stick spray.
Mix together first four dry ingredients, then add in wet ingredients.
Make sure you mix thoroughly, then fold in poppy seeds
Pour mixture into pan and bake for 40 minutes. Check the center with a toothpick to make sure it comes out dry (that means done and voila!)
YUM!
Frosting
I used my favorite butter cream frosting recipe from The Vegan Chef, here, but substituted one tablespoon lemon extract for the two teaspoons vanilla.
Nutritional Information for one 1/18 slice without frosting

18 Servings

Amount Per Serving


Calories

253.9

Total Fat

10.2

g

Saturated Fat

0.8

g

Polyunsaturated Fat

3.4

g

Monounsaturated Fat

5.5

g

Cholesterol

0.0

mg

Sodium

269.9

mg

Potassium

43.7

mg

Total Carbohydrate

39.1

g

Dietary Fiber

0.8

g

Sugars

22.7

g

Protein

2.5

g

Vitamin A

0.0

%

Vitamin B-12

0.0

%

Vitamin B-6

1.0

%

Vitamin C

3.6

%

Vitamin D

0.0

%

Vitamin E

9.8

%

Calcium

3.2

%

Copper

3.2

%

Folate

1.8

%

Iron

2.5

%

Magnesium

2.9

%

Manganese

14.0

%

Niacin

1.4

%

Pantothenic Acid

1.0

%

Phosphorus

4.0

%

Riboflavin

1.0

%

Selenium

10.3

%

Thiamin

2.9

%

Zinc

2.3

%

*Percent Daily Values are based on a 2,000 calorie diet. Your daily values may be higher or lower depending on your calorie needs.
It's on my to-do list to "healthify" this cake by subbing in whole wheat pastry flour for the refined white flour, apple sauce & vegan sour cream for the oil, maple syrup for the sugar, etc. I'm sure it will taste like an entirely different cake, but hopefully it will still taste delicious and satisfy a hankering for poppy seed cake! I'll keep ya posted.
<3,
The Cranky One
Tags: cake, dessert, Recipes, vegan, vegan desserts