Hey guys!
I got the news on Thursday — I scored an "outstanding" on my comprehensive exam ("the comps") and thus officially have my M.A. It's a nice warm and fuzzy feeling to know the relentless effort I put into preparation was actually justified.
The thing about studying for the exam, however, is that I literally spent day after day sitting on my ass studying and writing outlines. I'm sure I averaged about three days a week of hour-long exercise, which isn't too shabby, except for the fact that I was eating the amount of food that only someone like Michael Phelps can justify. I wasn't blind to the fact that I was doing this — years of weight loss and maintenance have ingrained the "inner calculator" voice, which means I'm always aware of how much I'm eating. However, I chose to allow myself to eat late night study snacks of pita and hummus, peanut butter toast, oatmeal, etc., even when I knew I wasn't hungry. I wasn't intentionally being careless, but I was also trying to teach myself to be more forgiving and accepting of my natural inclination to overeat, especially when overwhelmed. Acceptance of overeating? Does that sound crazy? Well, the alternative was to beat myself up and encourage an eating disorder relapse, so… I think you can see why I chose forgiveness
But – now that the exam is over, there really is no need for excuses or for sugar coating my own internal dialogue. I've got to get rid of the "Comps Ten!" You'll see below that this challenge really is less about weight loss and more about reinvigorating myself with the zest to live intentionally and to thrive in treating myself well. I know I feel my best when I'm actively treating myself well by eating healthily and working out!
The original goals I had for myself nearly two years ago when I did my first 10-pound challenge (and succeeded) are still befitting today. I've tweaked and amended them a bit, but here's what I'm aiming for this time around:
The "Comps 10″ Plan
This will be a two-month challenge beginning tomorrow, Monday, May 23 and ending Saturday, July 23. My concrete goals are to lose 10 pounds, gain muscle mass/lose flab, and increase the number of pull-ups, chin-ups, crunches, push-ups and body squats that I can do consecutively without rest. Concrete numbers will be provided tomorrow from which to gauge progress over the next two months.
My general approach?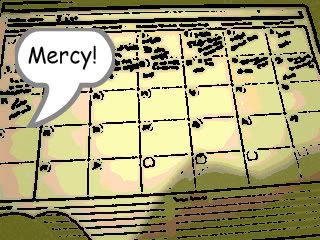 Get ready to sweat every single day!
Approach my health with the same diligence with which I approached school. I am going to approach my health and fitness with the same relentless diligence and zest I had when approaching the comps. If I could get up everyday and study for at least four hours straight, I can certainly get up and run for one measly hour.
Exercise every day, every week. I plan to exercise with intention for at least one hour everyday. It can be any type of exercise as long as it's intentional.

Keep things interesting and delicious. I want to try one new thing each week, either fitness- or food-related. In terms of fitness: I will be making endless dates with friends at the gym. I will be mixing it up and trying out new classes. Some things that I'm interested in trying include: Cross Fit, spinning (can you believe that I still haven't tried spin?!), Zumba, and new DVDs. Got a recommendation for a fun or new way to exercise? Please send 'em my way! In terms of diet: Get back into the kitchen and try new foods and recipes (no more living off of toast, cauliflower and oatmeal!). I love cooking and can't wait to spend some of my free time creating and trying new recipes.

Journey to an Intuitive  / What's Best for Bella Hybrid Approach to Eating. I have a love-hate relationship with IE. If you're curious as to what that means, and my opinions on the matter, read here and here. However, while I have my doubts about IE as a theoretical approach, I do like some of its tenets. So, I will keep calories in mind, but will focus also on eating when I'm hungry and eating sufficiently. I've learned before that I can't just allow myself a rigid amount of calories every day because if my exercise increases, so should my caloric intake.  I've lost weight before eating 2300 calories/day, but that was because I was running more than 6 miles/day.  It's got to be give and take and based more on actual hunger, fitness and nutrition rather than any static number. But – actually finding and being able to listen to those biological hunger cues is a challenge in and of itself. But I'm game!

Stray From Processed Foods. Clean foods are better, end of story. I don't really eat too many processed foods as it is, but I'm taking this opportunity to remind myself to keep up a good thing

Approach Health Holistically. Health is not just about the pounds or the body, it's a holistic approach to life in which your mind, body, intellect, spirit – everything – are in harmony or striving to be.  I have to continue to grant priority to the things that make me happy, even if they don't make me much money or even if they seem silly.

Tracking Progress

I will be weighing in and measuring my bust, chest, waist, hips, thighs, calves, and upper arm every Monday. Talk about public accountability. Eek! I will also provide the prior week's activity and calories log, like I did in my previous challenge.
By the way, if you want to see my previous challenge recaps, they make an interesting read because they're like historical records marking how I lost those damn 10 pounds
(the records of how I regained them are less interesting — Two words: peanut butter). The weekly recaps are linked here: #1, 2, 3, 4, 5, 6, 7, 8 & 9.
If you would like to participate in your own two-month health challenge, please tell me so in the comments section! We can help keep each other accountable. I also know a couple people personally who will be partaking in the challenge to lose 10 pounds and I'm currently working on cajoling them into sharing their progress updates on my blog (one of these people is my mom. Help me force coax her into sharing! ;))
Who's with me?!
<3,
The Cranky One
Tags: comps 10 challenge, fitness challenges, weight loss, weight loss challenge