I remember trick-or-treating one Halloween with my twin and arriving to a house where the porch light was on, the door closed and a stool set up with a basket on top. We knew an older woman lived there, so we figured the basket was there for us trick-or-treaters. What could it be, we wondered. Twix?! Reeses?! No, what if it's Snickers?!?!
It was boxes of raisins. A sign above the basket read, "please take only one." Yea, lady, no need to worry, seriously. We walked off shaking our heads.
Raisins?! Raisins?! That's almost as bad as handing out toothbrushes on Halloween!
Easter was no exception for our anticipation of sugar and my parents always delivered. I can still taste a white chocolate and Oreo Easter bunny I was given. I remember my mom saying, "you don't have to eat it all today."
Duh, I don't have to, mom! But I sure want to!
I ate it all that day. And it wasn't even hollow. D'oh!
Older now. Wiser. And certainly less fun, I wonder if I'm slowly transitioning into that old lady who hands out boxed raisins and crushes the hearts of children everywhere.
As I perused the aisles of Target yesterday in the attempt to pick out Easter goodies for my niece, I kinda worried. I saw all of my childhood favorites – Peeps, Cadbury Eggs, plastic eggs filled with every chocolate candy I grew up binging on — Butterfingers, M&Ms, Reeses — stacks and stacks of different flavored Easter bunnies, jellybeans, cake mixes alongside Easter-themed frostings…I couldn't help but wonder where to draw the line between not being that aunt who gives her niece raisins, the person who doesn't project her insecurities about the past onto a 3-year-old who has no idea what a binge-eating disorder is and who has responsible parents to dole out the goods, and staying true to the little voice inside of me that said, "you can be a fun aunt AND still be vegan AND still be health-conscious." That's a lot of quandary to encounter in the middle of an aisle at Target, eh?
I think I'm just at that point where I'm beginning to wonder who I will be as a mother and standing there between the Dora-themed chocolate eggs and sheep-topped Pez dispensers, I had a glimpse of just how incredibly paralyzed I felt in determining what was the right thing to do. Is it rude or presumptuous to forgo giving your niece non-vegan goodies because you are vegan? Is one little pack of candy made with high fructose corn syrup and red dye 40 really the devil? Am I simply falling victim to nostalgia and marketing campaigns by thinking I really need to buy any of this anyway?
How will it be with my future (way future) children? Will my kids feel jipped and trade their lunch money for the taste of Twinkies and Ding Dongs that are forbidden at home? Will I actually "forbid" any food?
Then, doubt and insecurity vanished. No way! There really is no need to compromise. I'm going to be that cool mom that bakes the best and most delicious treats out there that are also purposefully healthy and vegan! And, if my kids want to taste a freakin' Twinkie, they can go right ahead because I know they'll end up disappointed and feeling bad for their peers who think those dessert-freak-of-natures are actually good. And, since I'm sure they'll be googling and youtubing right after they pop from utero, I can show them this and ask them to google "where does gelatin come from." Gotta love the information age. I think my approach will be all about open and honest communication.
That, and traumatizing them with this! BUAHAHAHAHHA!

I am evil.
While I think what, how and why you eat what you do is important, I think it's more important to empower children to start thinking about those things for themselves. And perhaps simply lead by example when they're too young to care? I can only sit here arm-chair theorizing.
Anyway. I decided to forgo the candy for my niece with the exception of some Florida Natural jelly beans made from fruit concentrate. There will be plenty of candy from elsewhere, guaranteed. And she can enjoy the cool activities and dvd of the Velveteen Rabbit that I got her instead
I do wish, however, that they had a vegan version of this chocolate bunny because this is insanely cool in a sick and twisted way that I fully appreciate…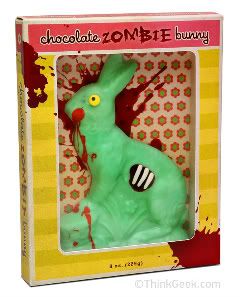 And it would tie in great as a sequel to The Velveteen Rabbit, right? This is what happens to the stuffed rabbits that actually got incinerated dun dun dun! They turn zombie! And then into chocolate? Hmm there are too many meta narratives going on here, I can't keep up.
Ok, spill. Am I the only one who's had an identity crises in the middle of a food aisle? If you have children, how do you approach what you feed them? If you don't have kids, and already worry about it like I do, how do you think you'll approach it?
If you're interested in making your own Easter treats this year, why not try some of the following?
<3,
The Cranky One
Tags: Easter, vegan desserts