Hey guys!
Happy Monday! I hope you all had enjoyable weekends. I don't think I really left my house since I spent most of my time curled up with Jack, but I'm feeling set to begin the paper-writing process now that the research phase and pre-writing phase are out of the way (yes, a lot goes into the writing process for me, which is why it takes me so long!).
Today is National Potato Chip Day — yes, another one of those unofficial snack-industry-made "holidays" encouraging us to gorge on unhealthy crap. But we're all so much smarter than those fools! *laughs maniacally* Despite the grimace on my face, I think it's a good time to celebrate that there are a lot of healthier chip options out there in the world and that we can make our own!
Some of my favorite store-bought chips include (taken from my post on "healthier packaged foods" here):
Food Should Taste Good Blue Corn Tortilla or Multigrain varieties. Vegan; some organic ingredients; no GM ingredients; no weird chemicals. Nutritional range per serving (9 chips): 140 calories, 6-7g fat, 80mg sodium, 3g fiber, 1g sugars, 2-3g protein
Terra Chips Sweet Potato Chips, Plain. No salt added; no weird chemicals; vegan; 2-3 ingredients depending on manufacturer. Nutritional info. per serving (17 chips): 160 calories, 11g fat, 10mg sodium, 3g fiber, 3g sugars, 1g protein.
Trader Joe's Chips with An Identity Crisis & their Flax Seed chips. Vegan; no weird ingredients. 120-130 calories per serving (about 10 chips).
You'll note that, with chips, serving sizes are pretty lame. In other words, the typical Cranky One would not be satisfied with a 100-something-calorie 10-chip serving. So, chips are not something I often eat simply because I consider them a calorie tease — one serving is definitely suitable, calorie-wise, but after one serving I want more. That's where the tease part comes in. If you're really achin' for simple potato chips, Trader Joe's now sells 100-calorie packs of kettle-baked potato chips.
Make Your Own Chips

If you want to make your own chips at home, I vote using sweet potato since they're more nutrient and fiber dense than most other potatoes. One large sweet potato has 160 calories, 0g fat, 65mg sodium, 37g carbs, 6g fiber, 12g sugars, 4g protein and 692% of your DV of vitamin A, 60% of your DV of calcium, & 7% of your DV of iron. Wow! All you have to do is wash & scrub the spud (*giggles* spud), slice it (I never skin mine), place on a baking sheet lined with foil and sprayed with cooking spray, sprinkle sea salt & pepper (or be as creative as you'd like and add cinnamon, etc.), and bake in the oven at 350 until crisp – about 20 minutes.
My Kale Fail Might be Your Success
If you want to be really crazy, you can try your hand at making kale chips. I know lots of my blogger pals have tried 'em and loved 'em. Me, on the other hand? I tried 'em. And wanted my money back. If you want to buy kale chips, I've heard that this brand is a good one (though I can't say b/c I've been afraid to try 'em. And want my money back.).
In other news…
New @ Trader Joe's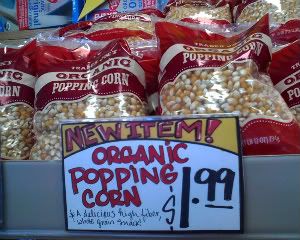 Organic popping corn. Popping your own is all the rage
Sundried Tomatoes
2 Tbsp: 35 calories, 0g fat, 20mg sodium, 1g fiber, 4g sugars, 1g protein
Ingredients: California sundried tomatoes, sulfur dioxide (for color retention; considered safe by the Center for Science in the Public Interest)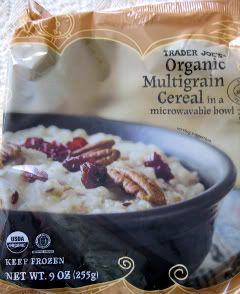 Organic Multigrain Cereal (frozen)
entire bowl: 190 calories, 1g fat, 320mg sodium, 5g fiber, 12g sugars, 4g protein
Ingredients: Filtered water, organic multigrain cereal (organic cracked wheat, organic barley, organic corn, organic triticale, organic rye, organic brown rice, organic millet, organic steel cut oats, organic flax seed), organic agave nectar, sea salt.
Microwaves into this:
Not worth it. Make your own. Plus, they ask you to microwave in the plastic wrapping and that always worries me.
Interesting Reads
"Once a Villain, Coconut Oil Charms the Health Food World" in the NY Times here
"I Take Up Space: Examining fatism and its consequences," a series in Psychology Today by Pattie Thomas, Ph.D., a medical sociologist, here
Check out Fran's blog, "Vegan Smarties" – she's gone vegan for lent and is posting about her experience here.
Alright, tell me your favorite type of chip! And any interesting reads or new product info. to share?
<3,
The Cranky One
Tags: healthy alternatives, healthy snacks, trader joes, trader joes new foods