I remember when I first started blogging, I blog-followed a young nurse who would sprout her own grains and take public transportation just so she could be more active and run to part of her destinations. She considered a large Medjool date a dessert.
I remember thinking she was crazy, but being intrigued by the reasoning behind her food choices. She is no longer blogging, but I still remember shaking my head at her eats and saying "never."
…and we all know how "nevers" fare in my world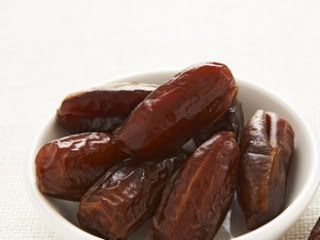 [source]
I bought my first box of dates from Trader Joe's recently on a whim, anticipating I'd be disappointed, but eager nonetheless. I've seen a lot of vegan bloggers use these little cockroach-looking things in desserts and even savory dishes, but c'mon…how good can a palm-tree-fruit really be?
Damn freakin' good. That's how good.
Dates taste like a thick and gooey slice of  caramel-covered jam. They are insanely sweet. Maybe it's my uber-sensitive taste buds from clean eating, but after one bite I actually made the squishy face that signifies "man, that's sweet!"
And, it figures — dates are loaded with sugar! The nutritional composition of two large Medjool dates (40g): 110 calories, 0g fat, 10mg sodium, 31g carbs, 3g fiber, 27g sugars, <1g protein. <– That's more sugar than what's in a bear claw pastry from Panera Bread. But, with fruit, you get the sugars in an unrefined and more wholesome vehicle that also includes natural fibers
I scoured the web for recipes that involved dates and found loads of awesome-looking ones. I settled on a dateball (these are very popular among raw and vegan foodies).
Then, the day I planned on making them, I found out I had the perfect date…
My niece!
And I didn't want to introduce her to a dateball. I figured we'd have a better (& funner) use of our time (and her picky taste buds) if we made a muffin or bread of some sort. I wasn't too impressed with the recipes I found online since they mostly called for white flours and refined sugars. So, I revised my favorite maple pumpkin spice bread recipe to include dates and please my favorite date.
(Perfect) Date & Pumpkin Loaf
2 cups whole-wheat flour
1 Tbs. ground cinnamon
2 tsp. ground ginger
1 1/2 tsp. baking powder
1/2 tsp. baking soda
1/2 tsp. ground nutmeg
1/2 tsp. ground allspice
1/2 cup pure maple syrup
1/2 cup grape seed or canola oil
3 tsp. Ener-G egg replacer mixed separately with 4 tbsp. water
1 cup organic pumpkin purée
3/4 cup Medjool dates, pitted & somewhat shredded
1 tsp. vanilla extract
1/2 cup chopped hazelnuts
Directions
Preheat oven to 350°F. Coat 9- x 5-inch loaf pan with cooking spray. Whisk together flours, cinnamon, ginger, baking powder, baking soda, nutmeg, and allspice in large bowl.
In a blender, blend together pumpkin and dates so that dates are chopped (not liquidized)
Whisk together maple syrup and oil in separate bowl. Whisk in egg replacer, then pumpkin-date puree and vanilla. Stir flour mixture into pumpkin mixture with spatula; add hazelnuts. Pour into prepared loaf pan. Bake 40 to 50 minutes, or until toothpick inserted in center of loaf comes out clean. Cool on rack 5 minutes, then unmold, and cool on wire rack; or transfer to serving platter, and serve warm.
Nutritional Information per slice (8 big slices total):

Nutrition Facts via SparkPeople Recipe Calculator


8 Servings

Amount Per Serving


Calories

386.0

Total Fat

19.0

g

Saturated Fat

1.6

g

Polyunsaturated Fat

4.6

g

Monounsaturated Fat

11.4

g

Cholesterol

0.0

mg

Sodium

175.6

mg

Potassium

273.5

mg

Total Carbohydrate

53.9

g

Dietary Fiber

7.2

g

Sugars

23.8

g

Protein

5.9

g
Vitamin A

95.5

%

Vitamin B-12

0.0

%

Vitamin B-6

4.5

%

Vitamin C

3.7

%

Vitamin D

0.0

%

Vitamin E

21.4

%

Calcium

10.0

%

Copper

10.8

%

Folate

3.9

%

Iron

9.1

%

Magnesium

7.7

%

Manganese

67.5

%

Niacin

2.5

%

Pantothenic Acid

2.9

%

Phosphorus

6.3

%

Riboflavin

2.3

%

Selenium

1.4

%

Thiamin

4.4

%

Zinc

7.5

%
*Percent Daily Values are based on a 2,000 calorie diet. Your daily values may be higher or lower depending on your calorie needs.
This bread is insanely good. Like crazy good! Sure, a slice is full of calories, but look at the wholesome ingredients and remember that all calories are not created equal.
Want to read more on dates (the fruit kind, not the awkward Sex and the City kind)? Check out a cool write-up on NPR here.
Do you like dates? What are your fave date recipes? And, since I love wordplay – who is your "perfect date"?
I gotta say, outside my niece and boyfriend, I'm pretty sure Neil Gaiman is my perfect date
<3,
The Cranky One
Tags: dates, dessert breads, desserts, healthy desserts, vegan desserts