Hey guys!
I got a couple requests for a sample vegan meal plan, so I've compiled one, below, and also provided some resources should any of you be interested in creating your own meal plans.
First, here's a picture of the vegan "food pyramid":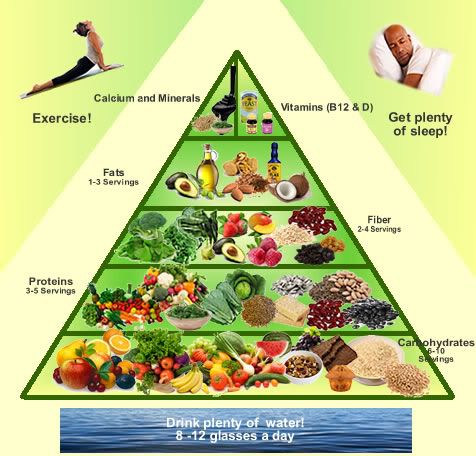 [source: Busy Vegan]
As with any food pyramid, the approach is not set in stone — it's all about what works for the individual. So, I've seen other vegan food pyramids that differentiate carbs from grains versus carbs from vegetables, etc., but I like this one most and seem to feel best when I eat in a similar fashion. Honestly, though, I do not spend my time making sure my meals fit this recommendation! (In fact, some days my pyramid looks like one big pita enveloped in hummus topped off with coffee!). I am simply using this image to serve as a guide to how most vegans should eat most of the time. Curious to see a vegetarian food pyramid? See here.
A typical day for me can look as follows. Lately, I've noticed my calorie intake ranging from 1600-2500 calories/day depending on level of exercise and other random variables. This day compiled below comes in at 1800 calories and also happens to fit in the daily recommended percentage of iron (based on a 2000 calorie diet). You'll also notice I get more than the recommended 49 grams/protein day for my weight.


[view larger here]
One thing I need to learn more about is B vitamins and omega 3s. I am still not convinced that taking a multivitamin is the right thing for me, yet I have not done adequate research (and preparation) to ensure I do get all the necessary vitamins and minerals from my diet alone. That's to come!
Resources
Have any of you ever written down your entire day's worth of food and analyzed where you might improve? What did you find? If you guys are vegan, how does my typical day compare to yours?
<3,
The Cranky One
Tags: Costco, food pyramid, meal plans, target, trader joes, vegan meal plan, vegan meals