Hey guys!
I got a new toy…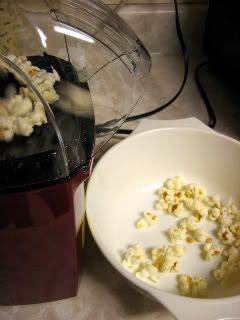 Oh you shiny star, you!
A Sunbeam Hot Air Popcorn Maker! Unfortunately, I didn't read the reviews until after I purchased it (they suck), but, so far, the machine's workin' juuuuuust fine!
I had been craving regular popcorn for about a month, but had found it nearly impossible to find pop-able popcorn without butter or milk additives. Even worse than most popcorn not being vegan is that the chemical additives for "butter flavor" have been linked to cancer. Diacetyl, for example, is a chemical compound used as a butter flavoring and scientists have suggested that coming into repeated contact with it can lead to a respiratory illness, sometimes referred to as "popcorn lung." D'oh! Additionally, and unfortunately, packaging chemicals in many microwaveable popcorn bags, such as perfluorooctanate or PFOA's, perfluorooctanesulfonate, or PFOS's, & phthalates, have been found to leach into the food [see here]. (Just an aside/tip, you can check the bottom of  plastic products to find a triangle with a number that corresponds to the quality of plastic used. Avoid it if the number is a three, six or seven [see here])
But now – on to the benefits of popcorn!
If you're eating popcorn you pop yourself – you start with a blank slate of loads of low-calorie, high-fiber deliciousness. You can have 3 tbsp. (approx. 33g) unpopped, or 5 cups popped, for 120 calories, 1.5g fat, 0mg sodium, 5g fiber, 4g protein. Compare that to a couple grams less of ACT II's microwaveable "Butter Lover's" popcorn, which has 160 calories, 9g fat, 400mg sodium, 3g fiber, 2g protein per serving. The ACT II's sodium amount equates to 17% of your daily recommended intake!
If you make your own popcorn, then, not only do you save calories, fat grams and sodium milligrams, but you also get to choose your own flavors! You can add sea salt, nooch, cinnamon, red pepper, etc.! There are sites dedicated to DIY popcorn flavors, so have a hay-day on Google!
Plus, you definitely save money (and environmental waste) making your own popcorn versus buying it pre-packaged at the store.
So, there's only one thing left to do…
Join the club!


The Clean Popcorn Bowl Club, that is…
Cool News & Links

Zephyr, one of my fave vegetarian/vegan restaurants in Long Beach, is now baking its own chips! When I first tried the restaurant, that was my sole complaint — that they served these blue chips that were so obviously store bought. From Zephyr's Facebook: "We will be baking tortillas made from a local tortilleria with sea salt and canola oil instead of purchasing blue corn chips. Why? To keep costs down and quality up. To reduce waste from excessive packaging. To Reduce emissions from shipping. To further remove ourselves from the mega corporations and to do what we love: making stuff by hand." Love it.
Watch Steven Colbert's "Thought for Food" on Fruit Pouches, Doritos and more. Hilarious. [here]
PETA2, the youth branch of PETA, recently held the Libby (short for "Liberation") Awards, which honors people and companies taking steps to save and protect animals. Chipotle won for most vegan-friendly restaurant chain (probably 'cuz of its partnership with Gardein and their meatless products). Also, Chipotle recently announced that it will be serving a meatless Garden Blend burrito filling, and a brand-new Chik'n Sandwich made with Gardein's products;  however, they're currently only available in New York, D.C. and Los Angeles. Gardein's vegan "Seven Grain Crispy Tenders" won for best fake meat and Denny's took home a prize for best veggie burger (it's an Amy's vegan veggie patty), which, frankly, is still a little bizarre given its home to the grand slam, but I guess we should always applaud progress, right? Right! [here]
What are your fave popcorn flavorings?
<3,
The Cranky One
p.s. If you do make your own popcorn, be careful with butter sprays falsely promising to be zero calories and zero fat!
Tags: popcorn