Hey guys!
If at first you don't succeed…

Round 1: Lopsided coconut turds
Add more flour. Words to live by!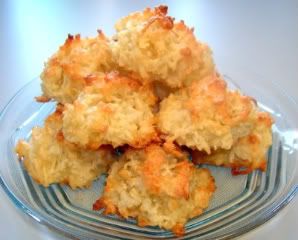 Round 2: Perfection! [photo cred]
I had to borrow my "after" picture b/c these cookies disappeared more quickly than the clothes of sorority girls on spring break!
Vegan Coconut Macaroons
Original recipe from Veganbaking.net here, revised a bit below
Ingredients
1 cup sugar
½ cup non-dairy milk
2 tablespoons brown rice syrup
2 teaspoons vanilla extract
1 teaspoon salt
3 cups shredded coconut
1 1/4 cup all-purpose flour
Directions
Preheat oven to 350F. In a medium bowl, mix the sugar, non-dairy milk, brown rice syrup, vanilla extract and salt. Mix in the shredded coconut.
Now add in the all-purpose flour and mix until well incorporated.
Form mixture into 1 inch balls and place on a lightly oiled cookie sheet (I recommend using foil paper sprayed with cooking spray or parchment paper – these suckers do stick). Bake for 10-15 minutes.
My boyfriend loved 'em and he's a macaroon connoisseur
Try these for Thanksgiving!
<3,
The Cranky One
Tags: cookies, vegan, vegan dessert