Hey guys!
A few of you expressed lack of interest (and fear
) in trying vegan hot dogs in response to my Veggie Link post yesterday (cough *MsFitMint*):
@FeedMeImCranky1 I've had a pack of those SmartDogs collecting fridge dust. Haven't been able to wrap my head around a fat free hot dog lol
@MSFitMint LOL! Take 'em out, dust 'em off, and try 'em! Just make sure u top 'em w/ plenty o' good stuff. they're not the greatest alone
@FeedMeImCranky1 might risk it,I mean try them,this wknd lol. 
So, I found two brand-spankin-new products from Trader Joe's that are less processed, less of a meaty-texture amalgamation, and more of a straight-up health food.

Behold….
Cumin & Chili Chickpeas $1.99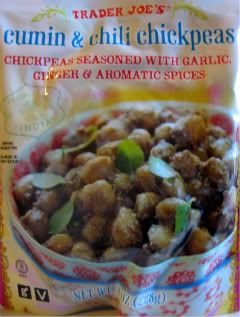 Nutrition Facts, 1/2 package, servings per container 2: 210 calories, 6g fat, 350mg sodium, 30g carbs, 12g fiber, 4g sugars, 11g protein
Ingredients: Water, chickpeas, onions, sunflower oil, spice blend, cumin, black pepper, chili, dried mango, garlic, ginger, salt
Spiced Soybeans $1.99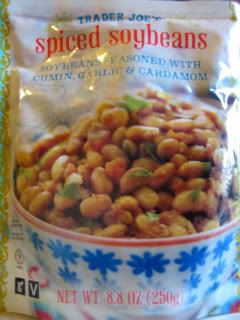 Nutrition Facts, 1/2 package, servings per container 2: 200 calories, 8g fat, 380mg sodium, 18g carbs, 12g fiber, 5g sugars, 14g protein
Ingredients: Water, soybeans, onions, tomatoes, carrots, celery, sunflower, oil, spice blend, cumin, black pepper, cardamom, garlic, salt, vinegar
These products couldn't make it easier to eat vegan and they're damn healthy, too, with loads of protein and fiber; no artificial colors or flavors, and no preservatives. They're meant to be heated in their packages, which makes it easy, obviously, but I don't ever like heating foods in the package they come in.
These meals taste good on their own, but they're not spectacular (I mean — they are just spiced beans…ya know?
). So, I recommend a couple things to get more bang for your buck, and to spice things up a notch.
Make some veggie fried rice — brown rice, a dab of sesame seed oil, green onion, etc. & mix in the beans
Use the beans as filling in your favorite whole-wheat pita with your choice of salsa or curry sauce
Eat with whole-wheat naan (a lot of naan breads have milk-based ingredients and/or hydrogenated oils, so read labels carefully! You can make your own naan with these recipes here)
Use the beans to top a salad of greens; add mandarin oranges for a nice touch. This is a good citrus salad that would go well with beans
Steam some veggies, add low-sodium vegetable broth (the beans already have a lot of sodium, so low-sodium veggie broth is the best way to go) and then add the beans to make your own healthy and low calorie soup
Beans +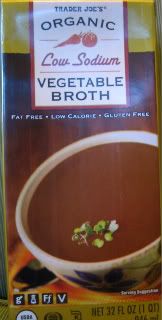 Low Sodium Vegetable Broth =
Yum. [photo cred]
See…not so scary, right? Right, MsFitMint?
<3,
The Cranky One
Tags: trader joes, trader joes new foods, vegan entrees, vegan side dishes