Hey guys! What's up? While I may be suffering from major paper anxiety — I've got a 15-20-pager due on Monday and I'm still in the early planning and pre-writing stages — I can't keep a frown for too long. I think it's got something to do with this delectable new creation I've been stuffing my cranky face with…
Udon Soup. Oh yea.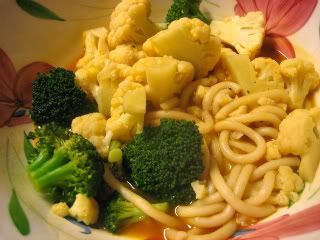 I recently found these organic & vegan O'Hana House Udon Noodles at Costco: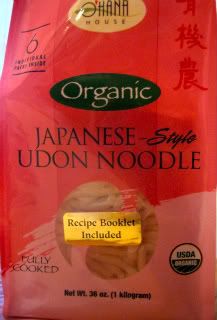 An excellent find! $5.49 for six individual packs. These are amazing because a) they're delicious, b) they're fully cooked and just need to be heated up, and c) they give me endless recipe possibilities. I've been fixed on making soup with them, but that's totally underutilizing their potential. I see pestos, salads and more in the future with these babies.
Nutritional Info., 1/2 individual package: 120 calories, 0g fat, 235mg sodium, 1g fiber, 3g protein
Ingredients: water, organic wheat flour, organic tapioca starch, sea salt, lactic acid
Talk about an easy three ingredient meal — grab the noodles + your fave vegetable broth…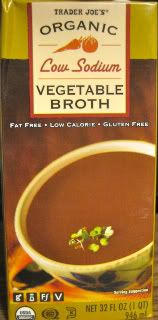 (I'd recommend not using Swanson's since they use high fructose corn syrup in their vegetable broth…)
Add your fave veggies….
Simmer. Add your fave spices &/or sauces to the broth (I add shoyu + salt + pepper) and voila! A healthful vegan feast!
See other recent Costco finds here.
What's your quickest 3-ingredient meal? Ever had udon noodles?
In other news, I've received a response from Claim Jumper on their suggestions for eating vegan at their restaurant – check it out here.
<3.
The Cranky One
Tags: Costco, ohana house, three ingredient meals, udon soup, vegan meals