Amended 4/19/10:
I've received a response from my e-mail to Claim Jumper regarding their vegan options and the following are their suggestions:
"The following is a list of selected items that are/can be prepared Vegan with little or no alterations:
Soft Pretzel — Comes brushed with butter, so ask for no butter
Candied Walnut and Asian Pear Salad — Ask for no Blue Cheese Crumbles
California Citrus Salad — Ask for no Blue Cheese Crumbles
Crunchy Spinach Salad — Ask for no bacon, or feta cheese
House Salad — Ask for no bacon, egg, cheese or croutons
Our Citrus Dressing is the only Vegan salad dressing option, but it is delicious!
Roasted Vegetable Soup
Thai Cole Slaw
Shoestring French Fries
Fresh Charbroiled Asparagus
Seasonal Roasted Vegetables or Steamed Vegetables
Baked Potato
All of our pizzas and calzones can be made without cheese.
Our sourdough bread, French bread, wheat bread, and squaw bread are all made without eggs, milk or whey.
We are currently in the process of compiling nutritional data on our vegetarian items and that information will be posted as soon as it is available. I hope this information is helpful to you. Please do not hesitate to contact me again if you have any additional questions or need any clarification. Thank you for choosing to dine with us!" Thanks, Claim Jumper, for taking the time to respond!
My original post dated April 6th, 2010:
Hey guys!
Oh Claim Jumper. l love your big booths, your dim lighting and your chocolate cake the size of my large 5-head. But, you've got some issues. Like, maaaaaajor issues. Freud would call them attachment issues — you're totally attached to high calories and perhaps this is a subconscious effort to remain childishly plump, but you've got to grow up sometime and grow a pair…of discriminating and fully-conscious eyes (all the better to see nutritional info. with! buhaha!)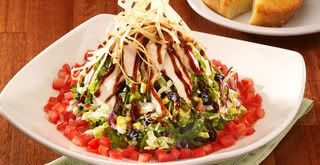 Here are the vegetarian options at Claim Jumper and ways I think you can make them vegan. I've noted the nutritional info. for these items because, well, it's shocking (but we knew that already!). They recently did something abominable…they got rid of their veggie burger (it was a Boca patty loaded with avocado and caramelized onions) and my go-to item! They've replaced it with a vegetable sandwich with goat cheese and portabello mushroom. Bleh. It tastes alright (though I get it without cheese and the huge mushroom, and change the bread lol), but it's no veggie burger and it's also harder to de-calorie-fy (<– yep, that's a word
Vegetarian Options
Appetizers
Fire Roasted Artichoke (Seasonal)
Marinated and grilled artichokes served with garlic mayo 10.95
1165 calories, 13g sat. fat, 1986mg sodium, 35g fiber, 23g protein
Bottom line: Well stab my (artichoke) heart — run away from this "vegetable" dish that's really fat with a side of artichoke! Presumably vegan if you don't use the mayo,but who cares? Don't eat it.
(Small Bite) California Quesadilla
Grilled corn tortillas filled with jack & cheddar cheese, fresh avocado, green onions, mild salsa & black beans. Served with salsa ranch 10.95
834 calories, 22g sat. fat, 1504mg sodium, 9g fiber, 31g protein
Bottom line: By "small bite" they must mean "feat in engineering"! How you can inject that many calories in something small is crazy sauce! Split this with 4 friends and you'll be alright except you'll probably each just get a crumb since it's a "small bite." To veganize you'd have to ask for it w/o cheese and verify the beans are not cooked in lard.
(Small Bite) Oven Roasted Tomato Flatbread
Baked in our stone hearth with alfredo sauce, mozzarella and smoked gouda cheese, roasted herb tomatoes, fresh oregano topped with fresh spinach 4.95
591 calories, 17g sat. fat, 970mg sodium, 3g fiber, 20g protein
Bottom line: What did you expect? It has alfredo sauce and cheese! Can't veganize this one.
Avocado Rolls
Wrapped with crushed chilies, sweet red peppers and fried crisp with ponzu ginger dipping sauce 9.95
894 calories, 6g sat. fat, 1883mg sodium, 15g fiber, 14g protein
Bottom line: Sounds delicious, but if I'd like to keep a lid on the junk in the trunk I'd see if they could steam instead of fry, and then I'd split with 4. This is potentially vegan — but you'd have to ask your server for the deets.
Nacho Platter
Melted jack & cheddar cheese, black beans, diced tomatoes top crisp chips with fresh guacamole, sour cream & chives. Served with mild & roasted salsas 8.25
2246 calories, 41g sat. fat, 2243mg sodium, 24g fiber, 77g protein.
Bottom line: A misanthrope's delight. I think I gained a pound just reading about this dish.
Pizzas
Tomato Basil Pizza
Fresh roma tomatoes, basil, mozzarella and chevre cheese 9.95
1163 calories, 27g sat. fat, 2357mg sodium, 6g fiber, 54g protein
Bottom line: I'm noticing a trend in these dishes and wondering why I'm even bothering…
Classic Cheese Pizza
With marinara sauce, mozzarella and fresh oregano 9.95
Nutritional info. unavailable, but I think we don't really need to confirm what we already can surmise, ya know what I mean?
Entree Salads
BBQ Salad
With corn, black beans, jicama, tomato, green onions, cilantro & crisp corn tortilla strips. Topped with sweet BBQ sauce and tossed with homemade ranch dressing 12.50
(Info. includes the version with chicken) — 1009 calories, 12g sat. fat, 2120mg sodium, 10g fiber, 65g protein
Lighter portion 9.50 (info. includes the version with chicken) — 701 calories, 10g sat. fat, 1310mg sodium, 5g fiber, 47g protein
Bottom line: I'd get the lighter portion (sans chicken, of course) and order without BBQ sauce, dressing or tortilla strips. I'd then add salsa for dressing. I can't give exact nutritionals, but I guarantee that would knock off a few hundred calories and most of the fat.

Vegetarian Cobb Salad
Danish bleu cheese crumbles, avocado, corn, black beans, diced egg, tomatoes with homemade Danish bleu cheese dressing 12.50
(Info. includes the version with chicken and bacon) — 1829 calories, 41g sat. fat, 3104mg sodium, 12g fiber, 110g protein
Lighter portion 9.50 — 1265 calories, 30g sat. fat, 2080mg sodium, 7g fiber, 74g protein.
Bottom line: Unless you're trying to win a contest for eating the most calorie-filled and protein-injected salad, stray far away from this beast. You'd have to take so many things OFF this salad to make it healthy or vegan, that you might as well get the produce bar and make your own.
Chinese Salad
Crunchy noodles, almonds, sesame seeds, green onions, carrots, basil and cilantro tossed with sweet & spicy peanut dressing 12.50
(info. includes version with chicken) — 890 calories, 10g sat. fat, 1483mg sodium, 8g fiber, 66g protein
Lighter portion 9.50 — 673 calories, 10g sat. fat, 1146mg sodium, 4g fiber, 46g protein
Bottom line: Not sure how the lighter portion has the same amount of fat as the hefty portion. Take off the crunchy noodles and get the dressing on the side if you're vegetarian and health-conscious. If you're vegan, avoid the dressing as well.
Entrees
Vegetarian Stuffed Baker Idaho
Stuffed with seasonal veggies, melted jack & cheddar cheese and fire-roasted salsa 9.95
818 calories, 17g sat. fat, 5124mg sodium, 14g fiber, 34g protein
Bottom line: If you're vegetarian and order this "as is," this is actually one of the best options on the menu calorie-wise. But why order "as is" when if you ask for "light on the cheese," "no butter on the veggies" and "light oil," you could knock off at least a hundred calories and more likely a couple. To veganize, I ordered without cheese, asked for a sweet potato instead of an Idaho (sweet potatoes are more nutrient-rich and DELICIOUS) and requested that my veggies be steamed without butter and no oil. I'm guessing the calories came in around 300 calories.
Vegetarian & Goat Cheese Sandwich
Marinated eggplant, zucchini and Portobello mushroom in balsamic vinaigrette with onion, carrots, sliced avocado, oven roasted tomatoes and field greens. Served on grilled herb bread with fresh pesto sauce and goat cheese 8.95
1227 calories, 17g sat. fat, 2215mg sodium, 19g fiber, 52g protein
Bottom line: If you're a calorie-conscious vegetarian, order w/o goat cheese and with the pesto on the side (that way you can just dab a tiny bit — pesto alone has around 230 calories per 1/4 cup (per Calorie King)). I'd also switch the bread to a rye, whole-wheat or squaw. I'm waiting to hear back from Claim Jumper, but it's usually safe to assume pesto is vegan.
Vegetarian Bow Tie Pasta
With spinach tortellini tossed with homemade alfredo sauce 12.50
Nutritional info. unavailable, but alfredo sauce + tortellini = calorie catastrophe.
Lighter portion 9.50
Bottom BOTTOM Line: Get the produce bar and a bowl of vegetable soup (82 calories per cup! and it's made in veggie broth), or the vegetarian baked potato (w/o cheese for the calorie-conscious or vegans).
If you're feeling crazy and un-vegan (then you're probably one of my friends — hi!), you can order a slice of the Chocolate Motherload Cake (see what I meant about maternal attachment issues, CJ?). Coming in at 2723 calories and 55g sat. fat, you'll be sure to feel a dare-devil's euphoria even if just for a second. Keep your doctor's (& therapist's) numbers handy, though, the physical and mental remorse is sure to kick in at some point. You could always split a slice with your 20 closest friends.
<3,
The Cranky One
p.s. I've sent an e-mail to CJ asking if the beans are vegan, if the herb bread is vegan and verifying a couple things (oh and also asking where I can find nutritional info. on the specifically "vegetarian options" like the BBQ salad w/o chicken). I'll amend to this post when I get it.
p.p.s. Thanks to reader Sam for pointing me to this info.!
Tags: Claim Jumper, vegan, vegetarian