Hey guys!
Wow, I've been MIA, eh? I'll publish a post with a little recap of what's been going on in my world — b/c I'm sure ya'll have been holding your breaths, right? Hahah, yea, didn't think so.
When I first began my weight-loss journey around 7 years ago, I wasn't aware of too many free, online weight loss resources where I could track calories, exercise, and progress, etc., so I mostly used Calorie King for finding the calories in foods.  A few years in, I used Fit Day to track my food intake in a spread sheet. Then, I pretty much ditched online resources in favor of my own personal tracking records — an old school giant calendar to track daily calories and exercise: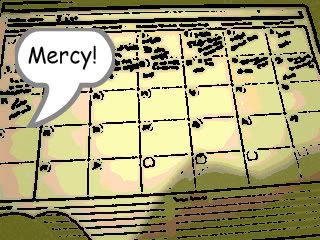 While I'm not likely to use these sites again (even though I'd like to get into a more muscular shape and tracking calories and exercise could help); I'd still like to know all that's available (holla' to a girl and let me know what you're using!) and I'll share with you the FREE fitness/nutrition tracking sites I know about:
Calorie Counter — Calorie Counter is a free online journal in which you track how many calories you eat and burn. I recommend this sort of thing for people who have a significant amount of weight to lose for health-reasons, and are just beginning to understand how to figure out calorie contents and how that affects weight loss. From the site: "My Calorie Counter can help you track how many calories you've burned, how many calories there are in your diet, and the number of calories in the food you eat. There are tools such as a calorie counter and charts showing how many calories in a certain food, along with a calorie chart and a journal that acts as your own personal food diary."
Daily Burn — You can track your food, record your work-outs, and communicate with others regarding your goals. It has videos with demonstrations, which is cool. They also offer two iPhone apps, including "FoodScanner" and "Daily Burn."
Fit Day — I have used Fit Day for a significant amount of time back in the day when I was keeping stringent records of what I ate. It was cool because you could just type in the food you ate, "small apple" for example, and it would add the 80 calories to your chart. From the site: "FitDay is a free online diet and weight-loss journal. The FitDay journal allows you to track your diet and activities with no guess work. This lets you take control of your diet and fitness and achieve your fitness goals. We hope you find the tool useful."
Live Stronger/Daily Plate — You can make a dare to lose weight, to spend time with your family, to run a marathon, to save money, etc. — anything that's gonna improve your quality of life — and, once you take the dare, you'll join others in a forum who are attempting to achieve the same thing(s) as you are. You can track your food intake and fitness with MyPlate. There are also tons of articles, videos and tools for your disposal.
MedHelp Free Weight Loss Tracker — I've never used this one and haven't met anyone who has, but it seems cool (just don't pay too much attention to things like BMI). From the site: "MedHelp's free Weight Loss Tracker helps you keep track of your weight loss, body mass index (BMI), calories and exercise. Want to add a mental note or before-and-after shots of your weight loss? You can add a journal associated with your weight tracker as a diary of your thoughts and as a collection of your photos. You can also use the weight ticker to share your weight loss with the world!"
Real Age — This site has a ton of cool resources like a weight-loss, waist-loss and walking tracker, and a menu planner. I wish they could combine everything into one, but, from what I've gathered, they're all separate. The site has a ton of cool articles and links, though, and the "real age" test (tests whether you are biologically younger, older, or the same age as your calendar age) is pretty gnarly! I took the test and got age 22.8 — so 3.5 years younger than I am. I also got a list of the things I'm doing well — no meds, eating my fruits, etc.; and a list of the things I need to improve on — anxiety, exercise (need to do more than the bare minimum) and diet (I'm assuming because I checked that I do not eat any dairy…which I'm counting as bogus!). But you'll notice how they take things like the size of the car you drive, your relationship status and your debt, among other things, into account. Whoa!
Spark People – I love using Spark People's recipe calculator, but I haven't really explored much else on the site. I've heard great things about it. From the site: "In addition to informative articles and interactive tools, such as fitness trackers and meal plans, members can find support and encouragement from our vibrant, positive community of members and experts. We pride ourselves in offering medically accepted weight-loss and healthy lifestyle recommendations that are easy to understand and implement."
Traineo — Stumbled on this one; I've never used it. From the site: "Just enter your stats (current weight, height, goal weight, etc.), and Traineo will give you a detailed graph of your weight loss progress as you move along, as well as projected weights for the future and tells you exactly how many calories you can ingest each day to reach your goals. Even a caveman could use this website and drop pounds, it's that simple. Plus, with a free account, you'll get access to other Traineo members in the community so you can swap stories and tips so you stay motivated" (quote from Geek Sugar article here)
Misc.
Active.com — This site offers event/activity searches so that you can find marathons, 10ks, etc. in your area. It also offers newsletters with exercise tips, event updates and more; an online community where you can join others who are training for the same events you're training for; and training plans.
Calorie King's "Food Search" — The "food search" option allows you to find the nutritional information for almost any food, including fast-food, restaurant and frozen foods.
Nutritiondata — Everything you ever wanted to know about the foods you eat. Nutritiondata breaks down your foods to the core — the regular info. we're used to (calories, fat, sodium, fiber, protein, carbs, sugar, etc.) and adds things like amino acids, minerals, protein quality fatty acids, nutrient balance, and more. The three best things are: 1) the charts – very easy to understand and aesthetically-pleasing; 2) the"good summary" that breaks down the good aspects of the food. For instance, this is the summary on cooked long grain white rice: "This food is very low in Saturated Fat, Cholesterol and Sodium. It is also a good source of Folate and Manganese"; and 3) the protein quality chart, in particular, since it allows you to find foods that would best complement the food you looked up.
What sites do you regularly use (or have you used) that you'd recommend to others for their fitness and health goals?
<3.
The Cranky One
Tags: Active.com, Calorie Counter, Calorie King, calorie tracking, Daily Burn, Daily Plate, excercise tracking, Fit Day, fitness tracking, health resources online, Livestrong, Med Help, Nutritiondata.com, online resources, Real Age, Spark People, Traineo, weight loss resources, weight loss tracking