Hey guys! I'm taking a break from blogging today to work on some freelance assignments (and hang out with my niece – the most awesome freelance assignment ever!) and wanted to use that as an opportunity to introduce you to one of my favorite bloggers, Chocolate-Covered Katie – she's got wit, major photoshop skillz and tons of amazing vegan creations to share! Plus, I think she might just love chocolate as much as I do, and that, my friends, is a bond that no one can break (unless it's with a bribe of chocolate, of course). Without further ado…
—-
Hi to all the other readers of Annabel's awesome bloggie!
My name is Katie, and I write a blog called Chocolate-Covered Katie.
First of all, a huge "thank you" is in order for Annabel, all-around amazing girl, for asking me do a guest post.
After deliberating for quite a while, I finally decided on a subject for my guest post. I immediately knew what I wanted to write about: Fudge Babies, of course!
For everyone who hasn't read my blog, I thought I'd start out with an introduction as to what fudge babies are.
After that, you get to meet the newest member of the Fudge Baby clan: Tiramisu Baby
It all began with some walnuts, dates, a little cocoa powder…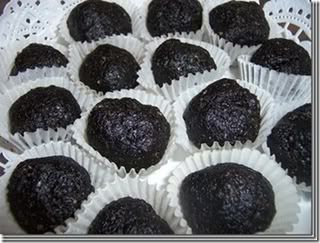 (Above, the original Fudge Babies)
At first, the fudgies enjoyed a quiet nursery all to themselves. But it wasn't long before many screaming brothers and sisters started popping out. Nowadays, the nursery is quite crowded (not to mention loud).
Babies in the Nursery (all linked to the recipe)

Upcoming Births
Butterfinger Babies (due date: early 2010)
Sex Bomb Babies (due-date unknown)
Snickerdoodle Babies (due in early spring)
All About the Babies
Fudge Baby FAQ page


(Spooky Babies, above)
And now:
Tiramisu Babies
Recipe here
These taste AMAZING straight out of the freezer.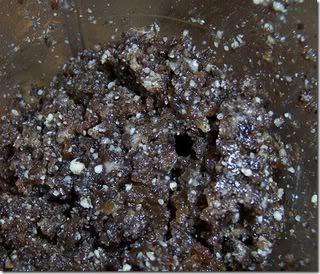 Tiramisu Dough. ZOMG!
Optional ideas:
Add a splash of rum
Add melted chocolate
Form into bars and spread cheesecake mousse on the tops
Or… use this as the crust, fill with cheesecake mousse, and you have a super-simple Vegan Tiramisu Pie!
Happy Baby Making!
—
Check out Katie's blog for some baby-making. Or do some of  your own seein' that it's Valentine's Day weekend. ya know what I'm sayin'? Ya know?! *hangs head in shame*
<3,
The Cranky One