Amended with new info.
Hey guys!
As yet another follow-up to my pal who's going vegan for lent, I wanted to do a post on some of the vegan protein bar options out there.

[photo cred]
The following vegan bars were available at my local Whole Foods recently (yes, I totally went in there with a notepad and pen and made them start sweatin' thinking I was with the Ethics Police over their recent scandal):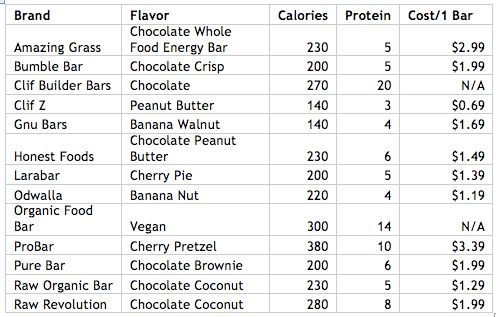 If I didn't note the price, it's because this doofus forgot to note it. Note to my newbie vegans: A "vegan" protein bar is one that does not contain animal substances. Most protein bars contain some form of dairy (or "whey"), which makes them not vegan. Check out this list of dairy ingredients for more information.
In terms of vegan protein/meal/snack bars, you'll see that there is quite a variety of options out there — some providing as little as 3g of protein and some as much as 20g. Your choice will depend on a number of factors, obviously. I, for instance, would rarely ever go for a bar with more than 200 calories, but that's because I don't eat food bars as a meal replacement or protein supplement – I just eat them as a snack. My favorite brands are Amazing Grass, Honest Foods, Clif, Larabar and Gnu — but that's only because those are the ones I've tried! I was unable to link to the sites in the image above, so I will do so below. You should take time to read the entire nutrition label before you choose a bar to see what best fits your lifestyle. For instance, if you're all about taste, and you're particularly picky, you might not like the Amazing Grass bar (I loved it, but I've read a few reviewers who didn't). If you're looking for extra fiber, Gnu bars are for you.
You don't have to fork over all your cash for these bars. You can find a lot of them for less at Target, Costco (if you divide the bulk price per item), amazon.com, etc.
It's good to remember that it's a total myth that vegans and vegetarians don't get enough protein. So, don't think that if you're going vegan it means you need to wash down every meal with a protein shake and a brick of protein bars. Think of it this way, 2 tablespoons of peanut butter usually has more protein than one of the bars listed above (p.b. has about 8g protein per 2 tbsp.). As Lindsay from Happy Herbivore so kindly reminded me, vegans & vegetarians don't need to take supplements or eat with a protein scarcity mentality if they are eating a variety of nutritious meals (hey, ya heard of quinoa? It's a pretty awesome grain that so happens to be a complete protein in and of itself). Though, check with a Dr. yadda yadda –  all that legal crap still spews from my finger tips after my 3-year stint at a law firm. In fact, you're probably better off if you view these snack bars as candy bars. I know some of them, like Larabar, are really good at limiting the ingredients list and some have nothing artificial in them, but, still, think before you consume. That's kinda the new motto I'm using and *cough*trying to implement.
If you're looking for a good vegan protein powder, I can't recommend one from experience, but I've heard of Vega and Sun Warrior as being specifically vegan. Lindsay happens to like the Living Harvest hemp protein powder. If you go to any health food store (e.g. Trader Joes & Whole Foods), you'll see that they have a variety of non-dairy protein powders.
Links to Vegan Snack & Protein Bar Sites
Do you guys eat protein bars? Snack bars? What are your faves, vegan or not? Protein powder?
Well, my friends, I'm off!  Despite the rumor to the contrary, I do sleep and I need some major Zzzs right about now.
<3,
The Cranky One
Tags: amazing grass, bumble bee bars, honest foods, Larabar, larabara, odwalla, organic food bar, probar, protein myth, protein powder, pure bar, raw organic bar, raw revolution, starbucks, vega, vegan protein