Updated 8/16/11
Any lifestyle change is going to, invariably, be met with intrigue…and sometimes criticism. Veganism is definitely one of those changes that might be met with concern (there's a lot of myth that vegetarians and vegans are protein and nutrient deprived) and/or met with a scoff and the question, "well, what will you eat? Rabbit food?"
I assure you that while I do love me some rabbit food, carrots and celery yum yum, etc., I also like to feel full and to eat a variety of delicious foods. Most simply, vegans do not eat or use anything that contains animal products (so no meat, eggs, dairy, etc.). It can seem a challenge to find things without animal products when you go out to eat at non-vegan restaurants (for realz!), but making your own vegan recipes at home is a cinch!  Just start with the basics:
Whole grains — Brown rice, whole wheat pastas, whole wheat bread (Note: Don't fall for marketing gimmicks! "Multi-grain" and "whole wheat blend" are NOT the same as "100% whole wheat"; also read labels since some breads use eggs)
Legumes/beans
Vegetables
Then, if you're feeling saucy, add:
Tempeh — Fermented meat substitute made from whole soybeans (and sometimes whole grains, too). Has a more "rugged" and meaty texture than tofu and also higher protein.
Tofu — A meat substitute made from a bean curd made from soy milk.
Seitan — A meat substitute made from wheat gluten.
Nuts — Adding chopped nuts to a salad is so cliche (yet delicious).  Add chopped nuts to everything for added protein (but still watch yer calories, yaknowwhatimean?)!
Oils — Olive and canola are the best
Herbs, spices — Fresh herbs and spices make a bland meat substitute go from meat mockery to meat flattery.
and:
Soy sauce
Marinade
Hot sauce
and voila! you've got a hearty and healthy vegan meal!
Some of my vegan staples & faves include:
Fried brown rice, black beans and steamed vegetables


Sweet potato enchiladas

Strawberry bread

Thai-style stir-fried tofu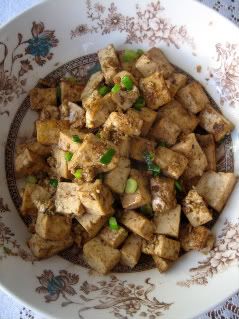 Sweet potato and asparagus quiche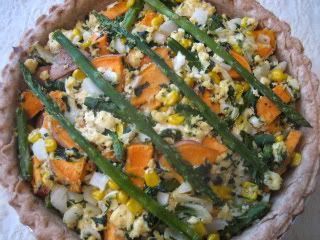 Corndog minis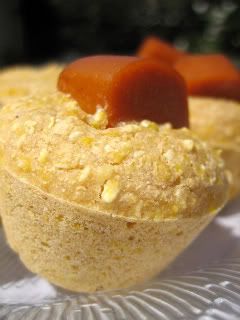 BBQ tofu pizza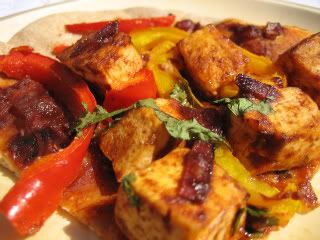 Refried bean tacos with homemade potato chips

Lemon basil brown rice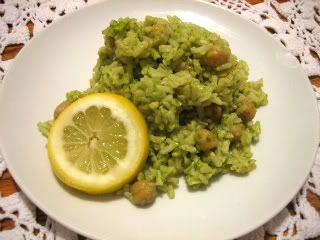 Lentil bolognese tacos with avocado and hot sauce

Black bean and yellow and red pepper tacos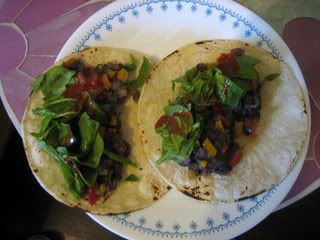 Don Lee Farms veggie patty with whole wheat pita and veggies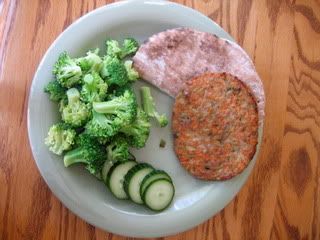 Miso soup and avocado rolls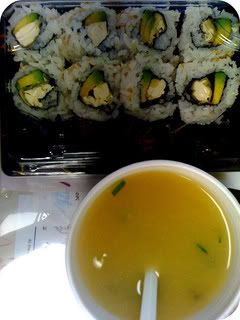 [photo cred]
Whole-wheat cold pasta salad

Tofu/veggie spring rolls

Whole-wheat spaghetti

[photo cred]
Don't worry — veganism doesn't steal away your nostalgic foods either. You can still have PB&J and many cereals (including Puffins — my fave!), just eat the cereal with soy milk, almond milk, rice milk or whole grain drink (a mix of whole grains like brown rice and quinoa).

[photo cred]
Pissed that cheese comes from animals and not the heavens above? No worries — try a cheese substitute (but keep your expectations low, let's be real lol).  Vegan Yum Yum has a delicious-lookin' vegan recipe for mac and cheese here.
And, seriously, let's not forget dessert (the most important meal of the day! ;)  Vegan desserts just so happen to be the love of my life and nemesis of my hips. My fave vegan dessert recipes are here, here, here and here. You can also check out all dessert books by Isa Chandra Moskowitz. If you want to go out for a vegan treat, visit my fave vegan restaurant Native Foods in the LA & OC area, or visit Baby Cakes Bakery in Los Angeles, CA or NYC if you're near there.
Food News
Corner Bakery announces "Combos Under 600 Calories" here. 600 calories is still a lot for a sandwich (calorie counts DO NOT include the side-item the sandwich comes with), but I guess it's better than eating a salad worth 1000 calories (jeebus — these horrific salads are everywhere, it's shocking!). Note: Not many vegetarian options at Corner Bakery and maybe a couple vegan options if you remove the cheese…
Related Posts
What restaurant do you think needs a healthy-foods option makeover the most? I recently went to California Pizza Kitchen and found that the only options under 500 calories were a cup of their soups.  I don't know about you guys, but a cup of soup for a meal leaves me feeling pretty deprived and cranky as hell.
<3,
The Cranky One
Tags: California Pizza Kitchen, vegan cooking, vegan desserts, vegan foods, vegan meals, vegan recipes, vegan restaurants, vegetarian cooking, vegetarian meals, vegetarian recipes, vegetarian restaurants