If your New Year's resolution is to lose weight, you're certainly not alone. In fact, you're pretty much on the bandwagon with the rest of the U.S. given that the most popular resolution amongst U.S. citizens was to "lose weight," according to USA.gov here.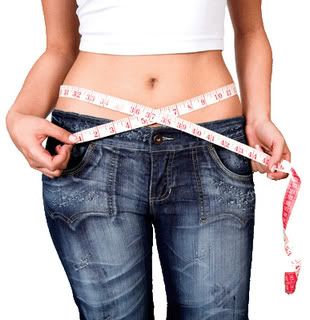 Source
I'm usually wary of anything the majority of the population is into, but I am going to appease myself in assuming that most of us mean "gain health"or "lose unhealthy fat" when we say "lose weight." Losing "weight" for the sake of losing weight is as pointless as seeking meaning in a Jersey Shore episode, and I could write a novel on that!
This new year, I'll remind you (and myself as my motivation has been waning), of the three most important tips in achieving the health you want:
Inform yourself. You can't expect to ace a chemistry test if you've never seen a periodic table before, so how can you expect to become fit and healthy if you've never learned how to read a nutrition label or how many calories are in a pound? If you are new to nutrition and fitness, have no fear – the Internet, as per usual, is free of amazingly awesome information (and not-so-awesome ads for acai berry and flat belly diets, but, eh whatcha gonna do?). I'd recommend reading here to understand how to read a nutrition label. Then take simple steps to become more informed. Rent some books on nutrition, subscribe to healthy lifestyle blogs and e-newsletters, and consult friends who seem to be living the lifestyle you want. You don't have to pay money to join a gym to exercise or pay a nutritionist for nutrition advice — exercise and healthy eating are free (just be sure to do your research).
Be honest. It's hard to be honest with yourself if you're under- or mis-informed. That's why #1 & #2 are intricately linked. As you arm yourself with more information, start to clearly define your goals. I think a lot of us just say, "I want to lose weight" and don't realize that "losing weight" is not a health goal, it's a vanity-based one. I know we all throw the term around, myself included, but I just want to throw it out there that being cognizant of what you really want is key to achieving your goals. Most of us want to be fit and healthy, and that doesn't necessarily relate clearly to a number on a scale, but to habits, lifestyle and the duration of those two things. Additionally, you'll want to be able to measure your progress. If you just want to "lose 5 pounds," I guarantee if that's as clear as your goal gets, you'll be wishing the same thing come 2011. Make yourself accountable by giving yourself mini-goals and measuring your progress on a consistent basis. You can measure progress by tracking strength and endurance (i.e. how many sit-ups, lunges, push-ups can I do? How fast can I run a mile? How far can I run before stopping? Am I able to sleep better? Is my digestive system working better?).
Mind yourself. Don't forget how intricately tied your mind, body and spirit are. I have learned the hard way how important it is to seek happiness in myself no matter how far along I am in achieving my health goals. There is no point in putting off your happiness until you look a certain way or meet some arbitrary socially-imposed standard of health or beauty. The reason any health goal is "DIY" is because it's all about YOU. It's freakin' hard, but always try to extricate yourself from the unhealthy standards of beauty portrayed in mainstream media and concentrate on really listening to your body and mind and what you need to do to feel strong and healthy on your own terms. Insanity and the "perfect body" will only make you a crazed carrot. What's the point?
What are your top three DIY health-gain tips?
<3,
The Cranky One
Related Posts
Tags: fitness, health, health gain, weight loss