Hey guys! It's been a while, eh? If we were in a relationship this could definitely be termed a "break" (though hopefully not a contentious fiasco like the Ross vs. Rachel "break"). It feels good to be back — so much has happened recently! I wish I could divulge all the goodies, but that'll have to wait.  For now, how about another variety of goodies? Some sweet-ass desserts!
The Heart-Healthiest Chocolate Chip Cookies in the World (Vegan)
Recipe from Vegetarian Times (Nov/Dec 09 Issue)
I made these for my band-mates for today's practice and they are delicious! Perfect for even the pickiest, discriminate eater.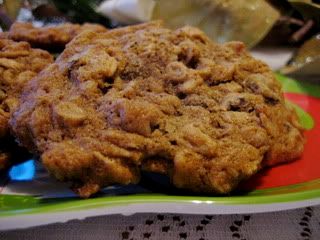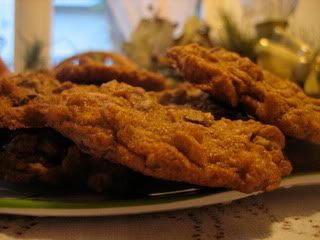 Ingredients
2 cups walnuts
3 tbsp. canola oil
1 cup light brown sugar
2 tsp. vanilla extract
1 1/2 cups oat flour
1 tsp. baking soda
1 tsp. salt
1/2 tsp. ground cinnamon
2 cups rolled oats
3 3.5-oz. bars bittersweet vegan chocolate, chopped, or 1 1/2 cups (12 oz.) vegan chocolate chips
Directions
Preheat oven to 350 degrees F. Coat 2 baking sheets with cooking spray.
Blend walnuts in food processor 30 seconds, or until ground into fine meal. Add oil, and blend 2 to 3 minutes more, or until mixture has consistency of natural peanut butter. Transfer to bowl.
Whisk together brown sugar and 1/2 cup water in saucepan, and bring to boil. Pour brown sugar mixture over walnut butter, add vanilla extract, and stir until no lumps remain.
Whisk together oat flour, baking soda, salt and cinnamon in separate bowl. Stir oat flour mixture into walnut mixture. Cool dough 10 minutes.
Fold oats, then chocolate chips into dough. Shape into 2-inch balls, and place on prepared baking sheets. Flatten cookies with bottom of a drinking glass dipped in water. Bake 8-10 minutes, or until cookies begin to brown. Cool 3 minutes on baking sheets, then transfer to wire rack to cool completely.
Nutritional information per cookie: 173 calories, 10g total fat (3 sat.), 3g protein, 2g fiber
Coconut Macaroon Brownies
From Allrecipes here
My boyfriend loves macaroons and brownies, so when I found this recipe I was stoked! Remember that film I was "starring" in and practicing for (see post here)? Well, the boyf had it show-cased at school and I felt "directorial debut" brownies were in order! See: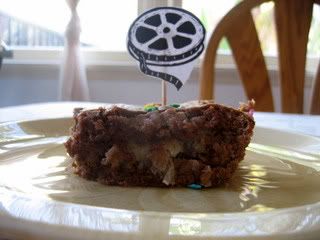 They were so good that I totally "forgot" about the near 500-calories price tag for ONE. Yep, you read right. Maybe I'm a masochist who likes to bake calorie-defying morsels of heaven to surround herself with. Or maybe I really need to re-think this whole "baking shows love" mentality and bake people squash fries to celebrate special occasions. Does that sound nearly as fun? Nope, didn't think so!
In other news, I've gone blond to see if I can disprove the whole "blonds have more fun" adage. If anyone can bring an extra ounce of cynicism to her life, it would be me — the cranky one.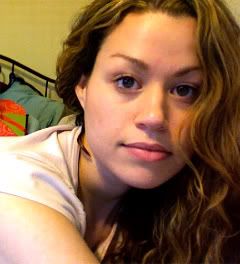 Or maybe going blond is my way of showing, externally, that I'm ready for change. I feel like my healthy lifestyle and I need marriage counseling. I'm just not "feeling" it anymore. I want to "test the waters," have a mid-life crisis, act out, feel that passion and excitement again. Ya hear that healthy lifestyle? It's time to step it up! Anyone else feel their routines need some re-vamping, some counseling, a new Porsche and tiny dog with sparkle collar?
<3,
The Cranky One
Tags: cookies, healthy lifestyle, vegan baked goods, vegan cookies, vegan recipes, vegetarian recipes