Guest Writer: Cody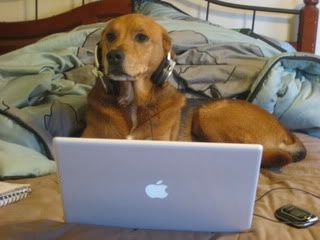 Hey humans! My name is Cody and, even though I don't have my own blog, I enjoy giving my opinion on blogs/bloggers/healthier Milkbone substitutes, etc. I've been living with Annabel for the past nine years and have seen her drop over 150 pounds, start a blog, train for a marathon, turn vegetarian, and eat way too many cupcakes (and not enough meat, in my opinion). The Cranky One asked that I share my healthy living advice/insight with you, and here it is:
I eat what smells good
I stop eating when I'm full
I don't eat food like I'm having a conversation with it – I'm always alert and distractible (but see next point)
If I'm truly enjoying my food, I'm not afraid to fight for it
I find pleasures in all the little things (the scents of new people, especially)
If I want something bad enough, I'll beg for it
I believe moderation is balancing a short run with couch-lounging for the rest of the day
I don't have "body image" issues because I never look in the mirror or weigh myself.  I only care about my body in so far as it's capable to chase birds and beat Whitey (my roomate, the cat) to treats
I firmly believe chasing my own tail is a fun exercise
Now, on to what Annabel really wanted me to share: the recipe for Miso Soup with Sweet Potato Dumplings made on Thanksgiving (originally found here)

1 pound sweet potatoes — 390 calories, 0.5g fat, 13.6g fiber, 7.1g protein
1 tablespoon canola oil — 124 calories, 14g fat, 0g fiber, 0g protein
2 cloves garlic, chopped — 9 calories, 0.1g fiber, 0.4 g protein
1 shallot, chopped — 22 calories, 0.8g protein
1/8 teaspoon red pepper flakes
1/2 teaspoon salt
1/4 teaspoon freshly ground black pepper
4 cups sliced bok choy — 36 calories, 0.6g fat, 2.8g fiber, 4.2g protein
1 cup bean sprouts — 31 calories, 0.2g fat, 1.9g fiber, 3.2g protein
1 cup edamame, shelled — 254 calories, 11.5g fat, 7.6g fiber, 22.2g protein
12 wonton wrappers — 240 calories, 0.75g fat, 1.5g fiber, 9g protein
3 tablespoons white miso, plus more to taste — 75 calories, 1.5 g fat, 6g fiber, 6g protein
2 scallions, thinly sliced — 16 calories, 0.1g fat, 1.3g fiber, 0.9g protein
Total Nutritional Information (4 servings): 1,197 calories, 29.25g fat, 34.8g fiber, 53.8g protein

Nutritional Information Per Serving: 299.25, 7.31g fat, 8.7g fiber, 13.45g protein
Directions
Heat oven to 375°F. Prick holes in potatoes. Bake on a baking sheet until soft, turning once, about 1 hour. Cool, then peel and mash. Heat oil in a small skillet over medium heat. Cook garlic and shallot, stirring, until fragrant, 1 to 2 minutes. Add pepper flakes. Stir garlic mixture, salt and pepper into potatoes. Place bok choy, sprouts and edamame in a pot with 2 cups water and set aside. Lay 1 wonton wrapper in palm of hand. Drop a heaping tablespoon of potato mixture in the center and make a fist to gather edges. Repeat with remaining wrappers and filling. Set dumplings on top of vegetables in pot. Bring to a boil. Cook, covered, until wrappers are translucent, 3 to 6 minutes. Divide veggies and dumplings among 4 bowls. Add 4 cups water to pot. Bring to a boil. Remove from heat. Add miso, stirring until it dissolves. Divide among bowls; top with scallions.
I would recommend removing the dumplings after translucent and setting aside, then adding the 4 cups of water (or use vegetable broth if you don't have miso paste!) while continuing to heat, not boil.  Then when serving, add the dumplings to the bowls (otherwise they begin falling apart in the pot).  If you are watching your sodium, go ahead and swap low-sodium vegetable broth for water and omit miso.
<3, The Cranky Dog