the North Pole vomited on America?  ;D  Is it sad that I know it's the holiday season when Corporate America tells me so?  When Starbucks takes down the pumpkin latte and breaks out their red cups?  When Target looks like a second rate winter wonderland?  Ok, I guess if I were to be less cranky, I could bring up the red poinsettias peeking out of the tree branches outside my window — those are pretty indicative too
And let the Holiday Bake Fest begin…
[Source]
You also know it's holiday season when the baking bug bites even the most anti-domestic-goddesses you've met — you know, the people who usually scoff at cooking or who believe the kitchen is just the room with the microwave — and they're all of a sudden breaking out the Betty Crocker mixes and bringing in their warped, yet delicious, concoctions to the office or to your doorstep. I guess this is a good time to remind you that no one out there is really going to de-friend you if you don't partake in their baked goods.  If you're really not feeling like you want to splurge on a cookie that even Frankenstein couldn't love, in the words of the anti-drug slogan, just say no.   If I'm really not feeling trying some one's baked goods, I don't mind using a little white lie. What, did you think I was better than lying?!  Fools!  I've been known to say, sweetly of course, "oh that is so sweet of you and while those look AMAZING (*emphasize how amazing the goods look*), I've had my fill today and couldn't possibly have more."  Just make sure this person doesn't see you scoffing down a cupcake or two later that day, but you get what I'm saying.  Do what you gotta do.
Of course, if someone brings in baked goods with a health slant, by all means, I'll break out my fork faster than the judges on Top Chef!
So, even if the holiday season is like a grab bag of mixed emotions for you (it is for me anyway…), it's always a choice whether to victimize or empower ourselves.
Perhaps the one thing I have to remember is that the holidays are more about giving than gaining (scale-wise, or metaphorically speaking, right? ;)  I am going to begin compiling some of the coolest health-related gift options out there that are budget-friendly and sharing with you here.
One of the items I'm most excited to put on my list to give to others is the Hungry Girl Chew the Right Thing: Supreme Makeovers for 50 Foods You Crave recipe cards book to be released December 8, though available for pre-sale on Amazon.com for $11.55.


I think one of the most empowering things I've learned on my health journey is that if I don an apron and whisk, I can make (and eat!) my favorite foods while still staying true to my health goals and I want my friends who are hesitant to make their own foods to give it a try!  Hungry Girl recipes are perfect for that purpose!
I am also looking forward to trying more recipes from Alicia Silverstone's The Kind Diet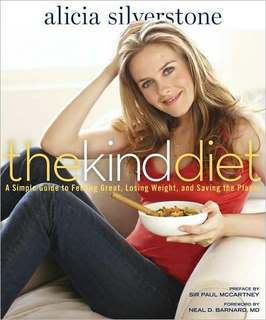 and seeing how I can make some of the dessert options friendlier towards my personal goals.
Must See of the Day

Jezebel's, "'If You Want To Be Popular, You Can't Afford To Be Skinny'" (11/9/09) here — Check out this vintage ad and remember that how we perceive weight and beauty has always been a social construct!
Give-Away Round Up
Win $35 towards an appliance at cookware.com here
How were your weekends?!  Nothing too eventful going on in Cranky Land — trying to get over my cold in time for my birthday trip to Disneyland this Wednesday — fingers crossed — and trying to wrap up on homework stuff as per usual.  What's on your holiday list this year?
<3,
The Cranky One
Tags: Alicia Silverstone, healthy gifts, Hungry Girl, the Kind Diet