Hey guys!  I hope you had a wonderful weekend!  My weekend was not too shabby — did a lot of reading, saw "The Invention of Lying" with the boyf (I wouldn't recommend it, but I have weird taste so don't take my word for it!), and had a lovely band practice. The highlight was last night when I was still at Starbucks and remembered I had a 8 p.m. video conference date with my band to discuss something Halloween-related.  So, I did what will put me on the Hall-Of-Shame for "Worst Things People Do at Starbucks" and that was: I had a video conference right there among the masses…without headphones (cuz' I had forgotten them!).  Now maybe it wouldn't be that bad if I could just whisper and act inconspicuous, but that was not possible as both of my band-mates went through the gamut of "video effects" including all sorts of facial distortions, a background that made it seem they were riding a roller-coaster, etc.  I was giggling aloud like an inconsiderate fool. Sorry Starbucks patrons!
So…
If you saw my video here, you either a) felt bad for me for realizing there was gelatin in my candy after I had consumed five pieces, b) Thought that my overuse of the word "treat" was annoying (or cute? please?) or c) thought I was an idiot for not knowing that jelly candies would invariably have gelatin in them.  From the e-mails I've gotten and responses from friends, I'm going with option c as the popular choice.  It's alright, I can suck it up and face the fact that some times I am just plain clueless


Hmm actually, let's go with this version of clueless instead


(aww still one of my fave movies of all time!)
So, if there's one thing I've learned along my journey to health, it's not to assume I know everything!  If I can accept that I don't know everything and always be open to learning more, I'm better off.  So, if anyone else out there has been as clueless as me and maybe wants to know a little more about gelatin and where it's lurking, here's to you!
What is Gelatin?
Gelatin is "a translucent, colorless, odorless, brittle, nearly tasteless solid substance, derived from the collagen inside animals' skin and bones. It is commonly used as a gelling agent in food, pharmaceuticals, photography, and cosmetic manufacturing" [source].  There are vegetarian substitutes such as carrageen and agar agar, but, apparently, the word "gelatin" alone will always mean it's derived from animals.  If a gelatin is prefaced with "kosher" that doesn't necessarily mean it's vegetarian –  it means it's not derived from pigs, but could very well be derived from other animals.
Where Might it be Lurking?
Jelly candies, gum, marshmallows, vitamins, margarine, cream cheese, ice cream, pop tarts, cereal, powdered dessert mixes (e.g. jell-o), among others.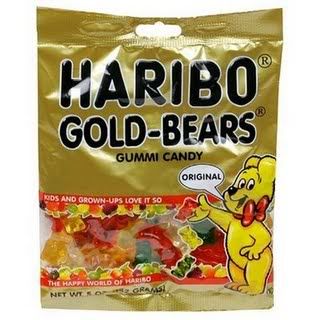 Haribo gummy candies, for instance, contain pork gelatin (or beef if manufactured in Turkey) [source]
What Should You Do If You Want to Avoid it?
Read the labels on food packaging before you consume it!  Don't assume that just because you're buying a product from a "health food" store that it's not going to contain gelatin.
Why I'm Now Wringing My Hands
I'm now seeing that animal remnants are lurking everywhere…I didn't know that fish bladders were used to "fine" wine and beer.  Did you?!  I'm also realizing what a slippery slope it is to be vegetarian for "ethical reasons" — for 1, vegetarians still eat cheese and eggs, which are — hello — animal products! and 2, I'll be honest, I think people typically use their version of "ethics" for self-righteous reasons and usually as a justification for doing something completely unethical (*cough*PETA*cough*).  So, I don't care to go into my reasons for being vegetarian. But I will say, if you prefer to avoid animal products as much as possible, do your research.
Give-Away Round Up
Congrats to All those Race Runners this Weekend!
How were your weekends?  Ever find an ingredient in your food you were not happy with (after it was too late!)? Ever been an inconsiderate coffee-shop patron?

<3, The Cranky One
Tags: agar agar, carageen, clueless, dumb and dumber, ethics, gelatin, PETA, starbucks, vegetarian