I've tried two new recipes that were so good, I had to share them with you!
Whole Wheat Pasta Medley of Yum Mixed with Damn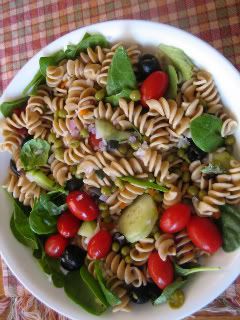 Close-up Action

Ingredients
1 box/bag whole wheat pasta rotini
3.25 oz can pitted black olives, rinsed and drained
10 Plum tomatoes (10)
1 cup sliced red onion
8.5 ounce can cut sweet peas, no salt added, rinsed and drained
3 cups raw spinach
1 cucumber, sliced
Directions
Cook pasta according to directions on box and drain
Add Pam cooking spray to pasta, mix, and let cool
Add rest of ingredients
Add a dressing such as a low-fat Italian if you'd like, but add that to the nutritional content
Per serving (1/8th of recipe): 219.50 calories, 3.88 g fat, 7.81 g fiber, 8.28 g protein
This dish is perfect for a picnic or social gathering. Since people could personalize the dish by adding chunks of cooked lean meat from a bbq, tempeh, and/or their favorite dressing, it's a very versatile dish!
Next up — Look at this!  Fruit Cobbler Fit for a Princess

I had to try Chocolate Covered Katie's Little Vegan Fruit Cobbler and I *loved* it.  Here's the recipe with a few alterations based on preference and what I had on hand:
Ingredients
Fruit Filling
Quartered strawberries (I used 12 large)
Sliced apples (I used 2 medium Gala)
1/2 tsp. almond extract — 0 all around
1/2 tbsp olive oil
Sprinkles of cinnamon
Sprinkles of cardamon
Total for filling: 272.50 calories, 7.95 g fat, 10.9 g fiber, 2.1 g protein

Topping
2/3rd cup steel cut oats

1/3 cup whole wheat pastry flour
A few packets stevia (natural sweetener)
Total for topping, approx: 533.33 calories, 7.34 g fat, 14.67 g fiber, 18.66 g protein
Directions
Preheat oven to 375 F
Place apple & strawberry mixture in 8×11 pan "greased" with nonstick cooking spray
Sprinkle topping mixture on top of fruit (I only used 1/2 of the mixture, but nutritional info. includes all of it…)
Bake for 20 minutes
Per serving (1/8): 100.73 calories, 1.91 g fat, 3.20 g fiber, 2.60 g protein

Close-up Action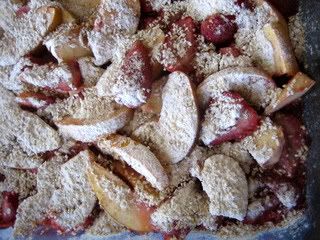 Eaten with a few chunks of an ice cream bar

How often, if at all, do you try other blogger's recipes?  Any "must try" recommendations?
<3,
The Cranky One