Happy Saturday!!
New Food Find — 16 snack-sized Tribe Hummus 100-calories packs — $4.99 at Costco
Umm, I am STOKED about this.  Like..totally…stoked (am I a Valley Girl or what?!  Hey, gotta mix it up! Ghetto fabulous can get old!)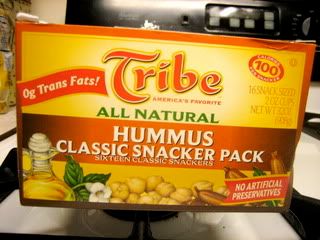 Stats for one little mini tub: 100 calories, 7 g fat, 2 g fiber, 4 g protein (Is that a lot of fat for one little tub? Eh well! LOL.  I can't fret about everything or I'll go loca!)
Does Whining Count as Protein?
Man, I've certainly earned a few gold medals in whining and wish I could transfer that skill to more useful things like adequate protein consumption and absorption.  But, alas, there is not a pill for that yet.
So I was doing some highly scientific research Googling to see how I may ensure I get adequate protein being a vegetarian and I was pleasantly surprised. I was under the assumption that protein combining was necessary to ensure that the proteins I ate were as "complete" as animal- and dairy-based proteins (though some grain-like foods such as quinoa are complete proteins in themselves, which is awesome).  Anyhow, this is from Wikipedia (the most reliable source out there tee-hee!) regarding the complete protein theory strongly espoused in earlier years (propagated by Frances Lappe's bestseller I joyfully – seriously – read in a freshman sociology class) and a general move away from this theory:
"The protein combining theory was based on interpretation of studies performed in the early 1900s on the growth of rats. The theory entered popular consciousness with the publication of Frances Moore Lappé's 1971 bestseller Diet for a Small Planet. In later editions of Diet for a Small Planet, beginning in 1981, Lappé changed her position on protein combining. In this later edition, Lappé wrote:
'In 1971 I stressed protein complementarity because I assumed that the only way to get enough protein … was to create a protein as usable by the body as animal protein. In combating the myth that meat is the only way to get high-quality protein, I reinforced another myth. I gave the impression that in order to get enough protein without meat, considerable care was needed in choosing foods. Actually, it is much easier than I thought.
'With three important exceptions, there is little danger of protein deficiency in a plant food diet. The exceptions are diets very heavily dependent on [1] fruit or on [2] some tubers, such as sweet potatoes or cassava, or on [3] junk food (refined flours, sugars, and fat). Fortunately, relatively few people in the world try to survive on diets in which these foods are virtually the sole source of calories. In all other diets, if people are getting enough calories, they are virtually certain of getting enough protein.'"

Complete Proteins
From Wikipedia:

"Complete proteins, also known as high quality proteins, 'contain all the essential amino acids in amounts adequate for human use; it may or may not contain all the others. Generally proteins derived from animal foods (meats, fish, poultry, cheese, eggs, yogurt, and milk) are complete, though gelatin is an exception. Proteins derived from plant foods (legumes, grains, and vegetables) tend to be limited in essential amino acids. Some are notoriously low, such as corn protein.
Some foods contain all the essential amino acids on their own in a sufficient amount to qualify as a 'complete protein'. Complete protein foods that also obtain the highest possible PDCAAS score of 1.0 are certain dairy products, egg whites, and soy protein isolate. Other foods, such as amaranth, Aphanizomenon flos-aquae, buckwheat, hempseed, meat, poultry, soybeans, quinoa, seafood, and spirulina also are complete protein foods, but may not obtain a PDCAAS score of 1.0″
Know anything about adequate protein consumption for vegetarians?
Refried vegetarian pinto beans sauteed with red onion and roma tomatoes in a low-carb, whole-wheat tortilla, with spinach
Steamed broccoli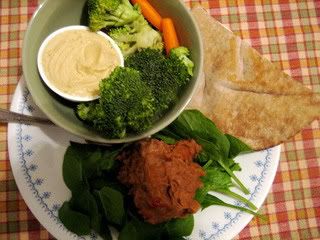 Refried vegetarian pinto beans sauteed with red onion and roma tomatoes atop a bed of spinach
Raw broccoli and baby carrots with Tribe hummus 100-calorie container
A whole-wheat pita
About vegetarian refried beans, from Nutritiondata.com here:
"The good: This food is low in Saturated Fat. It is also a good source of Iron, Magnesium, Phosphorus, Potassium, Copper and Manganese, and a very good source of Dietary Fiber.
The bad: This food is very high in Sodium."
Some Plans for The Weekend
Two Recipes I want to try out:
Plan on making anything yummy this weekend? What are you guys reading this weekend (even if it's just the newspaper lol)?
p.s. You guys know I'm an English major and love reading.  I also cannot, I mean CANNOT, read a word I do not know without looking it up. Diction is so important, guys :D  Especially when it's 11:00 p.m. and you are wondering if you should or shouldn't do weights and then your boyf says, "Yea, you're spry enough!"  I didn't know what the heck "spry" meant!  I could imagine it had the same root as the word "sprite" but was not sure.  For you guys that do not know:  Spry (adj.) = "(esp. of an old person) active; lively."  Ummm….
I'm just sayin'…I hit the weights like I was young again just to prove him wrong.  Woe is me. W-O-E is me. 
<3,
The Cranky One
Tags: combining proteins, complete proteins, Costco, diet for a small planet, hummus, mizfit, refried beans, The New Rules of Lifting for Women, Tribe Hummus, vegetarianism