You know that guy at the bar who is so funny looking that it's actually a bit charming? (No? I'm the only one?) Well, the zucchini squash would be that dude and, boy, did he swindle me into loving him. Can you see why?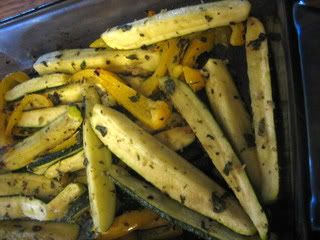 I wanted veggies and wanted something more than a salad.  I threw the following together with contents from my fridge and man…TOO DELISH!
Simple, Tangy & Super Zucchini Squash
10 medium zucchini squash quartered — 314 calories, 3.9 g fat, 21.6 g fiber, 23.7 g protein
1 yellow or orange bell pepper — 50 calories, 0.4 g fat, 1.7 g fiber, 1.9 g protein
1 tablespoon olive oil — 119 calories, 13.5 g fat, 0 g fiber, 0 g protein
3-5 tablespoons fresh grated ginger (depends on your taste) — 8 calories, 0.1 g fat, 0 g fiber, 0.1 g protein
3-5 tablespoons fresh, chopped basil — 1 calorie, 0.1 g fat, 0.2 g fiber, 0.2 g protein
Pepper
Instructions
Mix all ingredients and place in large baking dish sprayed with Pam Cooking Spray.
Cook for 20-25 minutes at 450 degrees F.
Nutritional stats for one serving (1 quartered zucchini spiced this way) — 49.2 calories, 1.8 g fat, 2.35 g fiber, 2.59 g protein
What's Up with Zucchini? From Nutritiondata.com here:
"This food is low in Saturated Fat and Sodium, and very low in Cholesterol. It is also a good source of Protein, Vitamin A, Thiamin, Niacin, Phosphorus and Copper, and a very good source of Dietary Fiber, Vitamin C, Vitamin K, Riboflavin, Vitamin B6, Folate, Magnesium, Potassium and Manganese."

Serving Suggestion — Zucchini Pizza Sandwich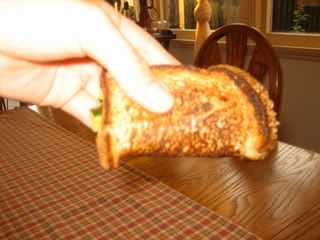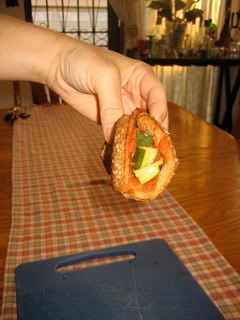 2 slices Simple, Tangy & Super Zucchini Squash (1/2 medium zucchini), chopped — 24.6 calories, 0.9 g fat, 1.18 g fiber, 1.30 g protein
1 slice Oroweat Double Fiber Bread – 70 calories, 1 g fat, 6 g fiber, 3 g protein
¼ cup Clasico traditional pasta sauce – 25 calories, 1 g fat, 1g fiber, 1 g protein
1 oz Lite Shredded Mozzarella Cheese — 45 calories, 3 g fat, 0 g fiber, 5 g protein
Pam Cooking Spray to "fry" the slice of bread.
"Fry" the slice of bread for a bit, add sauce and cheese to top until cheese melts a bit.  Remove and add chopped zucchini.  Fold like a sandwich and enjoy!  I was so enamored by this little pizza sandwich, I can't even tell ya!
Nutritional info. for one pizza sandwich: 164.60 calories, 5.9 g fat, 7 g fiber, 10.3 g protein
One Western Bagel's "The Alternative Pita – Whole Wheat – 110 calories, 0.5 g fat, 8 g fiber, 7 g protein
Baked Tofu (added a few baby carrots; omitted sesame seeds) — 167.88 calories, 6.28 g fat, 1.38 g fiber, 8.53 g protein 

Black bean cucumber salad (Thanks for making this, Lucie!  I need the recipe!)
Simple, Tangy & Super Zucchini Squash (4 slices, or 1 squash) — 49.2 calories, 1.8 g fat, 2.35 g fiber, 2.59 g protein
Total nutritional info. for dinner (not inc. bean salad) — 327.08 calories, 8.58 g fat, 11.73 g fiber, 18.12 g protein
Baked tofu
Oroweat double fiber bread with tomato sauce and mozzarella
Leftover mashed potatoes I made yesterday for my dad
His dessert?


Chocolate cake with cream cheese frosting – both from scratch (and not made with calorie content in mind!)
Not sure if you've noticed based on my more recent meal pictures — but I am no longer eating meat.  Yes, that makes me a vegetarian.  It's not a big deal and wasn't a sacrifice to come to that decision given that I was naturally eating very little meat any way.  So, if you don't see meat in any of my recipes any more, that's why!
What's your favorite vegetable?  How do you cook it?  Any veggie recipes you want to share?
*p.s. whoops! I forgot to take my measurments as I said I would yesterday. Will do that for tomorrow!

Tags: vegetarian meals, zucchini, zucchini squash